The Jeep Gladiator can tow between 4000 lbs and 7650 lbs depending on the engine and package selected.
All Jeep Gladiators require that you purchase the tow package if you plan to use this vehicle for towing as the base does not come with a trailer hitch receiver.
It is important that you always check your manual and specific specifications to ensure you are towing safe amounts. It all starts with the GCWR. This article lists the GCWR and max trailer weight for all engine, trim, and package options taken from the 2022 Jeep Gladiator owners manual and a 2022 Gladiator Brochure.
This is meant to be used as a reference, and you are responsible for making sure you are towing safely.
I wrote a full article on calculating towing capacity that walks you through the necessary steps to ensure you are not exceeding the towing or payload capacity.
Though I tried to make this information as accurate as possible, you should always check your manual or contact your local dealer to determine the appropriate towing capacity of your vehicle and necessary equipment.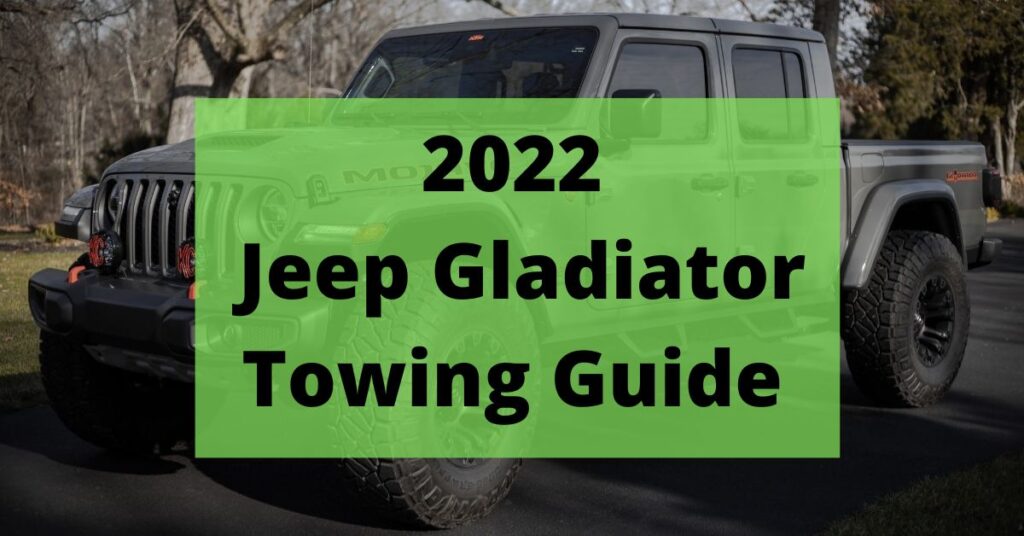 How much can a Jeep Gladiator Tow?
All Jeep Gladiators can tow a minimum of 4000 lbs. Some options with tow packages can accommodate up to 7650 lbs.
The engine type, axle ratio, tow package, and transmission all affect the weight rating of the Jeep Gladiator.
What Jeep Gladiator should you buy for max towing?
The Sport or Sport S with an automatic transmission with the Max Tow Package will provide the highest towing capacity of 7650 lbs.
2022 Jeep Gladiator Engine Specs
3.6L Pentastar V6 Engine
The 3.6 L Pentastar V6 engine, also known as the 3.6 L V6 24V VVT engine has a maximum horsepower of 285 and torque of 260 lb.-ft.
It has a manual and automatic version and is the base engine in all Jeep Gladiator trim levels.
It estimates to get 17 mpg in the city and 22 mpg on the highway.
3.0L V6 EcoDiesel Engine
The 3.0 L V6 EcoDiesel engine also known as the 3.0 L V6 Turbo Diesel engine is an automatic-only engine offered as an option on every trim.
It has a maximum horsepower of 260 and torque of 442 lb.-ft.
It overall gets better gas mileage than the Pentastar engine with 22 mpg in the city and 28 mpg on the highway.
Transmissions
The Jeep Gladiator 3.6 L Pentastar engine comes in both manual and automatic transmission types. In every trim level, the automatic provides additional towing strength than the manual alternative.
The manual engine is a 6-speed transmission with code D478. The automatic transmission which is also equipped on the diesel Jeep Gladiator engines is an 8-speed transmission with the code 850RE.
Jeep Gladiator Features
Towing Features
ParkView Rear Backup camera is a pretty standard backup camera that has a 4X trailer hitch zoom to better align the truck when back up to attach a trailer.
Bed Features
There is only a singular bed size for all Jeep Gladiators of 5 ft. It implements a three-position tailgate and 4 tie-down loops to ensure safe transport of your cargo (Jeep.com).
A full 115 bolt/400-watt power outlet is also installed in the truck bed to power small appliances on the go and when tailgating.
An additional special feature in the bed of the Gladiator is the Trailer Rail System. This is a customizable and adjustable tie-down system that comes with various accessories from Jeep for maximum storage capacity and functionality.
For more information on the Gladiator Bed read here.
Off-Road Features
Though Jeep has ventured into the pickup truck world, they have not strayed too far from the Jeep brand. They still make the Gladiator fully functional for off-road capabilities.
All trucks are equipped with 4×4 engine systems, 11.1 inches of ground clearance, and a high air intake to track across up to 31.5 inches of water.
The Rubicon trim is specialized for off-road conditions. It has (Jeep.com):
Tru-Lok electronic locking differentials to maintain momentum and traction
Sway bar disconnect to increase front-wheel articulartion by 30%
Rock-Trac transfer case giveing 4:1 low rang and 84:1 crawl ratio for increased crawl control on steep inclines
Rock railer to protect the cab and box from rough terrain
FOX shocks for improved off-road handling
Packages
In order to tow with the Jeep Gladiator out of stock, a package must be added. There are two packages available. The first package simply adds the necessary equipment to make the gladiator have the capability to tow, and the second maximizes the towing capacity of the Gladiator.
Trailer-Tow Package
The trailer tow package on the Jeep Gladiator simply allows the Gladiator to be used as a towing truck.
It adds a Class IV hitch receiver, trailer hitch zoom, 240-amp alternator, and a heavy-duty engine cooling system.
It does not increase the towing capacity of any of the trims it is added to. It is available as an add-on to all trim levels.
Max Tow Package with 4.10 Axle Ratio
The Max Tow Package offered by Jeep comes with the same features as the trailer tow package but adds:
4.10:1 axle ratio
Trac-Lok limied-slip differential
A/T tires
wide fender flares
GVWR of 6250 lb
It is only available on the Sport and Sport S trims and requires the 3.6 L Pentastar automatic engine.
Do you need a towing package?
If you plan to use the Jeep Gladiator for towing then you do need a towing package. Otherwise you will not have the appropriate equipment to install a trailer.
After you have the appropriate hitch installed, you will want to also have a trailer hitch ball mount. CURT makes some great mounts, and I recommend the CURT 45900 Adjustable Trailer Hitch Ball mount to allow you to adjust to various trailers.
curt 45900 adjustable trailer hitch ball
Amazon Affiliate Link
Adjustable hitch ball mount for 2 in receivers
Supports up to 14,000 lbs
Includes 2 in and 2-5/16 in balls
Jeep Gladiator Towing Capacity by Trim
As mentioned earlier the regular tow package does not affect the towing capacity of the vehicle, so all values listed below are for the Jeep Gladiator with or without a tow package.
Sport & Sport S Towing Capacity
Max Towing Capacity
GCWR
Axle Ratio
Manual
4,000 lb (1,814 kg)
9100 lb
(4128 kg)
3.73
Automatic
4,500 lb (2,041 kg)
9650 lb
(4377 kg)
3.73
Diesel-Automatic
6,500 lb (2,948 kg)
12,100 lb
(5,488 kg)
3.73
Automatic
(Max Tow Package)
7,650 lb (3,470 kg)
12,800 lb
(5,806 kg
4.10
Jeep Gladiator Sport Towing Capacity chart
Rubicon
| | | | |
| --- | --- | --- | --- |
| | Max Towing Capacity | GCWR | Axle Ratio |
| Manual | 4,500 lb (2,041 kg) | 10,000 lb (4,536 kg) | 4.1 |
| Automatic | 7,000 lb (3,175 kg) | 12,450 lb (5,647 kg) | 4.1 |
| Diesel-Automatic | 6,000 lb (2,722 kg) | 11,800 lb (5,352 kg) | 3.73 |
Jeep Gladiator Rubicon Towing Capacity chart
Overland
| | | | |
| --- | --- | --- | --- |
| | Max Towing Capacity | GCWR | Axle Ratio |
| Manual | 4,000 lb (1,814 kg) | 9,100 lb (4,128 kg) | 3.73 |
| Automatic | 4,500 lb (2,041 kg) | 9,650 lb (4,377 kg) | 3.73 |
| Diesel-Automatic | 6,500 lb (2,948 kg) | 12,100 lb (5,488 kg | 3.73 |
Jeep Gladiator Overland Towing Capacity chart
Mojave
Jeep Gladiator Mojave Towing Capacity chart
High Altitude
Jeep Gladiator High Altitude Towing Capacity chart
Jeep Gladiator Payload Capacity
The payload capacity of the Gladiator ranges from 1025 to 1600 lbs. There is some documentation that claims it can even go up to 1700 lbs if equipped properly.
This means that the Gladiator can hold an extra 1025 to 1700 lbs in the bed and cab in cargo weight safely.
Sport & Sport S Towing Capacity
Jeep Gladiator Sport Payload Capacity chart
Rubicon
Jeep Gladiator Rubicon Payload Capacity chart
Overland
Jeep Gladiator Overland Payload Capacity chart
Mojave
Jeep Gladiator Mojave Payload Capacity chart
High Altitude
Jeep Gladiator High Altitude Payload Capacity chart
Rear Step Bumper Towing vs Hitch Receiver Towing
Towing always requires some type of hitch, but the Jeep Gladiator can allow for bumper towing.
As you will notice, the tow package added to any Gladiators does not affect the towing capacity. This is because this package only adds a hitch receiver. You have the option to add your own hitch receiver if you don't buy the tow package.
If you do not buy the tow package or install a hitch receiver, the max towing capacity is 3,500 lbs and the tongue weight max load is 350 lbs. This weight is limited to a bumper-mounted ball.
This means that all of the listed towing capacities above for everything over 3,500 lbs require a trailer hitch receiver or tow package.
Need a hitch receiver?
curt 13434 class 3 trailer hitch 2 inch receiver
Amazon Affiliate Link
Class 3 hitch receiver
Compatible with Jeep Gladiator JT
Tows up to 5,000 lbs
Conclusion
The 2022 Jeep Gladiator can tow up to 7,650 with Max Tow Package. You should always check your specific vehicle and the recommendations from Jeep before towing and make sure your truck is properly equipped.
Even though the reported information in this article is accurate to that from Jeep, it isn't necessarily the actual towing capacity you can pull at any given time. You need to calculate your own towing capacity every time you tow something, that is best practice. To read how to do that, check out: How is Towing Capacity Calculated?