The 2022 Ford Maverick is making a big impact in the world of pickup trucks. Though the desire to go full electric is not desirable by many current pickup truck owners, the new hybrid vehicle opens up the door to many customers who want a pickup truck with pickup functionality and good mpg without breaking the bank.
With a starting MSRP of $19,995, this is the most affordable pickup truck on the market.
But what capabilities do you really get with the Maverick?
The Maverick has a towing capacity of 2000 lbs and a payload capacity of 1500 lbs. For customers who order the additional 4K towing package, there is a 4000 lbs towing capacity limit. This higher limit is only offered with the gas 2.0L EcoBoost engine and is not available in the hybrid version.
2022 Ford Maverick
Hybrid & Gas
2022 Ford Maverick
w/4K Towing Package
Towing Capacity
2000 lbs
4000 lbs
Payload Capacity
1500 lbs
1500 lbs
Towing Capacity & Payload Capacity Ford Maverick 2022
In addition to towing capacity and payload capacity, this article will go into more detail on the engine capabilities, trims, fuel efficiency, and curb weight of the vehicle.
All information was taken from the 2022 Ford Maverick Brochure and 2022 Ford Maverick Owners Manual.
Though I tried to make this information as accurate as possible, you should always check your manual or contact your local dealer to determine the appropriate towing capacity of your vehicle and necessary equipment.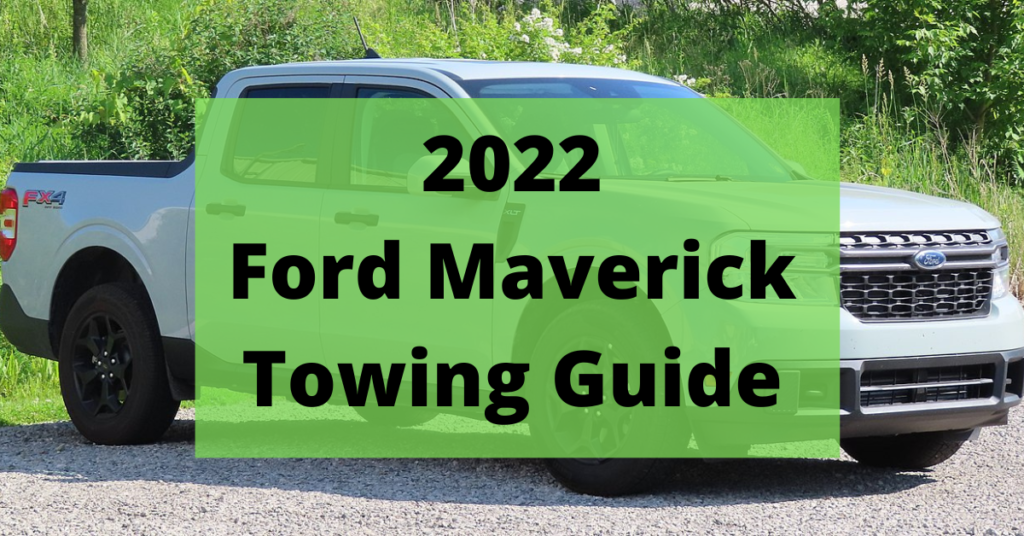 Maverick Trims
The Ford Maverick only comes in 3 trims: XL, XLT, and LARIAT.
Each comes with the same basic features, such as a 2.5L hybrid engine with a SuperCrew cab (5 person seating capacity) and a 4 ft 6.4 in. truck bed.
The differences between these trims are in the interior seats, wheels, and display screens.
The XL is the basic and cheapest trim with fewer frills and the LARIAT is the higher end trim model.
2022 Maverick Engine Performance
| | | |
| --- | --- | --- |
| | 2.5L FHEV Hybrid Engine (Standard) | 2.0L EcoBoost Gas Engine |
| Horsepower | 191 hp @ 5,600 rpm | 250 hp @ 5,500 |
| Torque | 155 lb.-ft @ 4,000 rpm | 277 lb.-ft @ 3,000 rpm |
Maverick 2022 Engines and Performance (Source)
The Ford Maverick has two main engine types. What makes the Maverick special is that it is a full hybrid vehicle. BUT it is also available in a full gas engine as well.
The hybrid engine is the FWD 2.5L FHEV hybrid engine. It has 191 hp @ 5,600 rpm and 155 lb.-ft @ 4,000 rpm.
The gas 2.0L EcoBoost engine is available in both FWD and AWD. It is a more powerful engine having 250 hp @ 5,500 and 277 lb.-ft @ 3,000 rpm.
Maverick Gas Mileage
| | | |
| --- | --- | --- |
| | 2.5L FHEV Hybrid Engine (Standard) | 2.0L EcoBoost Gas Engine |
| City (FWD/AWD) | 42 mpg | 23/22 mpg |
| Highway (FWD/AWD) | 30 mpg | 30/29 mpg |
Maverick 2022 MPG (Source)
What makes the Maverick really attractive to many drivers is its fuel efficiency. The hybrid engine gets 42 mpg in the city and 33 mpg highway.
The gas engine performs significantly worse in the city at 23-22 mpg (FWD/AWD) but only slightly lower on the highway at 30-29 mpg (FWD/AWD).
Compared to many other pickup trucks on the market, even the gas engine gets about 5 mpg better than most other trucks.
Maverick 4K tow package
The Maverick 4K Tow Package is the only tow upgrade offered to the Maverick. It does not do anything to the engine but adds a trailer hitch receiver with a seven-pin connector.
Ford Maverick Towing Capacity
All Ford Mavericks with either a hybrid or gas engine can tow a maximum of 2000 lbs according to Ford.
A Maverick with a gas engine and a 4K Towing Package has up to 4000 lbs towing capacity.
It is important to know that this is the maximum towing capacity and the actual towing capacity at any given point is dependent on cargo weight, accessories, and passenger weight.
For more information on how to calculate towing capacity with these adjustments, read: How to Calculate Towing Capacity
Ford Maverick Payload Capacity
The payload capacity refers to the amount of cargo and extra weight that can be added to a truck.
In the Maverick, the payload capacity for all model and engine types is 1500 lbs.
This means that the maximum weight that can be added to your truck including passenger, cargo, and accessory weight cannot exceed 1500 lbs.
Similarly to towing capacity, you should always calculate your own payload capacity to determine whether or not you are within spec.
The way in which you can calculate your own payload capacity is to use the GVWR. For a breakdown of how to use this weight rating, read: What does GVWR mean?
Ford Maverick Curb Weight
| | | | |
| --- | --- | --- | --- |
| | 2.5L FHEV Hybrid Engine (Standard) | 2.0L EcoBoost Gas Engine FWD | 2.0L EcoBoost Gas Engine AWD |
| Curb Weight | 3,674 lbs | 3,563 lbs | 3,731 lbs |
Maverick 2022 Curb Weight (Source no longer Available, taken from Ford.com)
The Maverick weighs between 3,563 and 3,731 lbs. The hybrid version of the Maverick weighs 3,674 lbs.
The only factor that affects the curb weight of the vehicle is the engine and drive. Each of these options has their own weight.
Conclusion
This hybrid truck is desirable to many because it is cheap, can both carry and tow standard loads, has good gas mileage, and maintains the look of a pickup truck.
There are only a few options available to order which will yield 1500 lbs in payload capacity and 2000 lbs in towing capacity.
The 4K towing package adds an extra 2000 lbs to the towing capacity of the gas EcoBoost engine to a total of 4000 lbs.
If you plan to do any towing with your Maverick, you will either need to buy the 4K Towing Package or a hitch receiver since it does not come with one.
Please remember that you should always consider any adjustments you make to your vehicle to determine whether or not your truck can actually handle the limits listed by Ford.
When possible, always do your own calculations based on GVWR and GCWR for the most accurate numbers.
Check out How to Calculate Towing Capacity for more information.