The Jeep Gladiator is the new pickup truck crossover between a standard pickup truck and a Jeep Wrangler. Though it provides some versatility as a pickup truck, it is not specifically designed for max utility.
It has limited features such as towing capacity (which you can read about here) and bed size.
The Jeep Gladiator only has one bed size. This bed size is 5 ft in length. This is considered small in the world of pickup trucks.
The 2022 Jeep Gladiator bed is 60.3 inches long, 56.8 inches wide, 44.8 inches wide between wheel wells, and 33.9 inches high.
The bed size for the 2021 and 2022 models are exactly the same so all dimensions listed in this article refer to the dimensions for both years.
Keep reading if you want more information on the features of the Gladiator truck bed as well as all the exterior and interior dimensions.
5 ft bed
Length
60.3 in
Width between
wheel wells
44.8 in
Max Width
56.8 in
Cargo Vol.
35.5 cu. ft.
Depth
33.9 in
2022 Jeep Gladiator Bed Sizes and Dimensions Table
Jeep Gladiator Interior Dimensions
Cab Size
One thing that sets the Jeep Gladiator apart from other trucks on the market is that it comes in one cab size.
This significantly keeps down VINs and complexity.
This cab size can accommodate 5 seats and holds a total of 103 cu. ft. of space. Unlike MANY other pickup trucks with two rows, the back row is only 3 inches less in legroom.
| | | |
| --- | --- | --- |
| | Front | Rear |
| Legroom | 41.2 in | 38.3 in |
| Headroom | 42.8 in | 42.8 in |
| Hiproom | 53.9 in | 55.9 in |
| Shoulder Room | 55.7 in | 55.7 in |
Jeep Gladiator Exterior Dimensions
The Jeep Gladiator is comparable to many other mid-size to full-size trucks on the market.
Independent of the trim, the exterior dimensions of the Gladiator remain the same.
Overall the Gladiator is 218 inches in length, 73.8 inches in width, and 75 inches in height to the top of the cab.
| | |
| --- | --- |
| Exterior Length | 218 in (18 ft 2 in) |
| Overall Width | 73.8 in (6 ft 1.8 in) |
| Overall Height | 75 in (6 ft 3 in) |
2022 Jeep Gladiator Exterior Dimensions
Jeep Gladiator Bed Sizes
As mentioned before, the Gladiator only has one type of truck bed and it is considered small compared to many other beds on the market.
This bed is 5 ft and 0.3 inches from end to end. I haven't seen any kind of bed this small. Other short beds in the market are around 5.5 ft.
The standard bed on the market is 6.5 ft, so this is significantly smaller. This isn't the best truck to select for its bed use. Though it provides more space than most other SUV's and obviously much more than the Jeep Wrangler, it is a great option for those looking for some extra utility with a pickup, with the look of a Wrangler.
This truck bed is 60.3 inches long, 56.8 inches wide, and 44.8 inches wide between the wheel wells.
It is also 33.9 inches deep. This is one place in which the Gladiator stands out. This means there is more ability to stack things higher in the bed of the truck, but it is harder to access for the average person without any extra step assistance.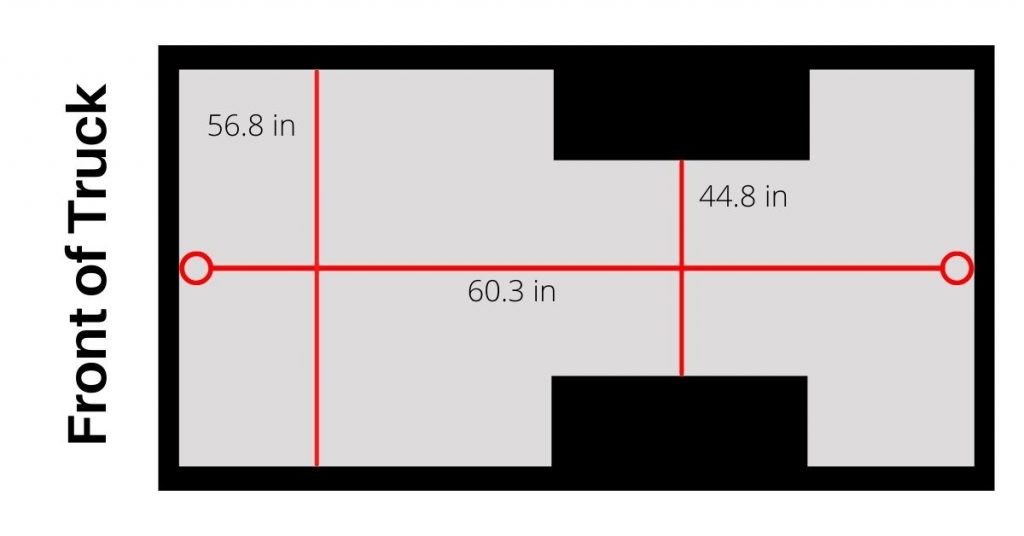 Bed Styles
Most half-ton and mid-size trucks today are only equipped with one bed style. A bed style does not refer to the size of the bed but rather the shape.
There are two main shapes of bed styles. The first is fleetside and the second is stepside.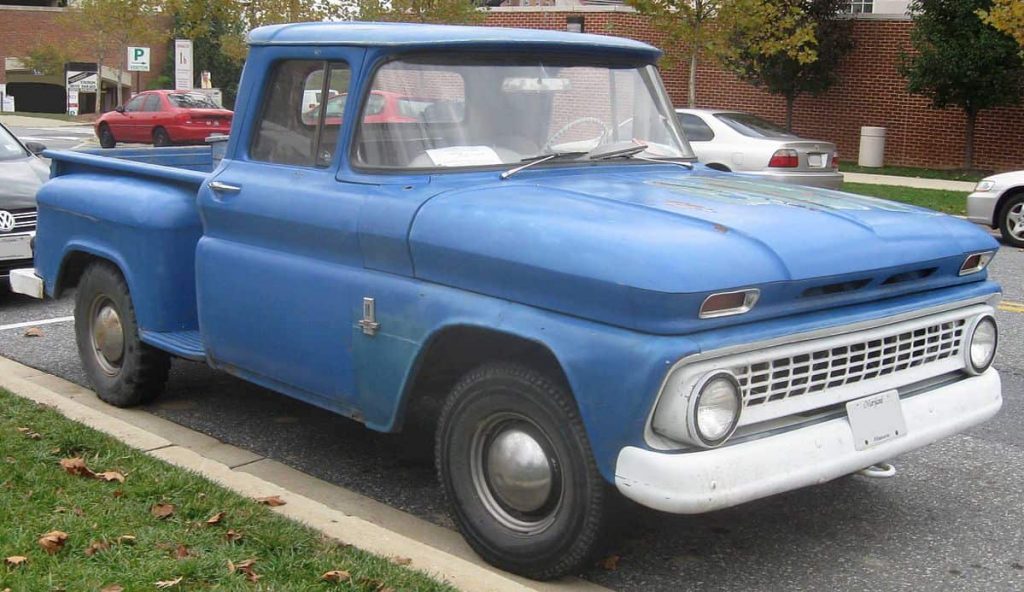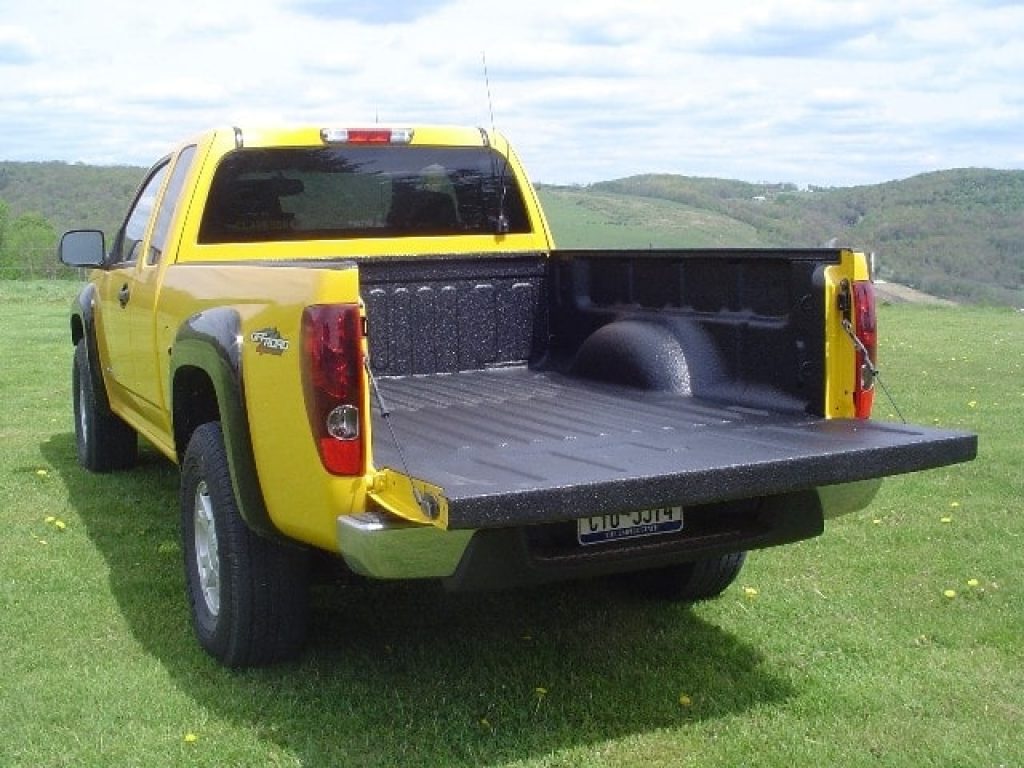 Fleetside bed styles are those that have the wheel wells of the back axle tires protruding into the bed like the one displayed above. This means that the outside of the truck is flat on the sides of the bed.
The stepside truck beds are just that. The wheels present themselves as a step on the outside of the truck bed. This means that the truck bed is rectangular in shape and doesn't have any wheel wells inside.
Fleetside beds are the most common today and are the only style offered in the Jeep Gladiator.
Gladiator Bed Features
Tie Down Brackets
There are 4 built-in tie-downs in the bed of the Gladiator which makes it easier to load cargo with many forms and shapes. The deep bed also makes it able to accommodate some larger items with less intense strapping.
Power Outlets
Built in the back of the truck bed is a 115-Volt full power outlet. This provides you the opportunity to charge and power any electronics for your next adventure.
This provides some additional versatility for camping, or ya know, can help you make some margaritas on your next beach trip.
Multiple tailgate positions
This sounds more exciting than it is. Though it doesn't have fancy hinge systems that open like doors like some of the other new trucks, it does have three positions.
It opens in the traditional way that most truck beds do, downward. So it can be fully closed and fully open.
But, they also allow the truck bed tailgate to sit at a 45-degree angle. This helps to accommodate some large sheets or slats that may interfere with the wheel well in the side of the bed.
Truck Bed Upgrades from Jeep
Tonneau cover
When you first order a Jeep Gladiator, there are three options for which you can add a tonneau cover.
There is a roll-up cover for $625, a Soft Tri-Fold cover by Mopar also for $625, and a Hart Tri-Fold cover by Mopar with a price of $995 (Jeep.com).
If you need a quick choice for a tonneau cover, these aren't bad options, but there are cheaper ones on the market, especially for the soft versions that you might want to look at instead. Of course there are some benefits to ordering through Jeep.
They may help with installation, and they may have a warranty program as well.
If you are looking for other alternatives to the Jeep-issued truck bed tonneau covers, check the next section below.
Spray in Bed-Liner
Though the base surface of the Gladiator bed is a solid steel frame, it is susceptible to damage. One of the best ways to protect the bed is with a spray-in bed-liner.
Jeep offers a Mopar bed-liner for $525 which seems a bit steep for this technology. For less than half the price, you can do it yourself with the following kit.
Trail Rail System
This system is a specifically designed bed cargo management system that allows full bed access for storage with an additional tie-down system that sits on the edges of the bed that allow cargo basket to sit on top.
The Trail Rail System is a Jeep Trademarked system in which adjustable tie-downs are able to be used in conjunction with the truck bed cross rails and cargo basket.
Best truck bed covers for Jeep Gladiator
You might be looking for the dimensions of your Gladiator because you want are wondering if something will fit in your truck bed. However, you might be in the market for a truck bed cover (or tonneau cover).
If you are in need of a truck bed, I suggest you read my article: Types of Truck Bed Covers to help you identify the best style of truck bed cover for you.
However, if you need a little boost in finding a good truck bed cover for your 2022 Jeep Gladiator, check out some of the options below from Amazon.
Always make sure that you order a truck bed cover that is compatible with your year, make and model. There are also some bedliners that are not compatible with the Trail Rail System, so please double check!