It is always important to keep safety in mind when dealing with guns. This includes the safety of others, the safety of yourself, and the safety of your equipment.
Securing your firearms and ensuring there is no misuse of the gun will both protect you physically and legally.
The best way to transport a gun in a pickup truck is to secure the firearm in a lockable case (unloaded), secure the separate ammo in another case, and then secure the locked firearm box in a locked toolbox in the bed of your truck.
If this can't be done, there are other general guidelines that should be followed.
There are a number of laws you need to consider as a gun owner, and you should always check your local laws to ensure you are following them.
The information here is by no means legal advice and should simply be used as an option and for guidance.
You must make the most informed decision on transporting your firearm with your own research.
Below is the most information I could find on this subject, so I hope it helps!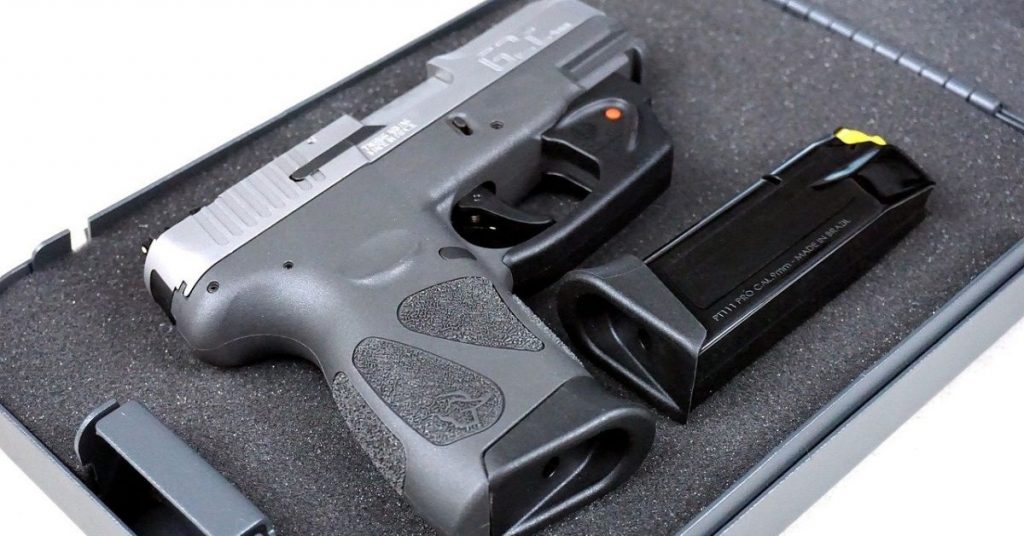 How to Transport Firearms (the right way)
It is always important to consider both local and federal laws when it comes to owning and transporting a firearm.
Each state has its own regulations and you should know your laws both inside and out.
Most information is found on the internet regarding the rules for your state. Skip to this section at the end of the text for some helpful resources for gun laws in your state.
In my search, I came across a company called Legal Heat and they have a very cheap guide ($20) that reviews all the firearm laws and regulations for the current year in every state.
I think that's a pretty good investment to protect yourself from any legal repercussions, especially if you go across state lines.
This nifty handbook can be easily stored in your glove box for convenient reference.
Legal heat also has a great video walking you through the best practices for transporting your firearm.
There are federal protections for transporting firearms across state lines that don't allow concealed carry licenses, but your federal protection goes away if you participate in any other activities other than basic transport activities such as getting gas or food.
Once you lose federal protections, you are subject to local state laws.
Legal heat states that the best practices for transporting include:
Firearms are unloaded
Firearms are added to a lockable, hard-sided container without any ammunition inside
Ammunition must be stored in a separate container
Store firearms as far as physically possible from the driver
Ammunition stored in a separate, inaccessable location by the driver
Handgun Cases
It is not difficult to find handgun cases that are hard-sided and lockable.
Finding one that fits your specific gun type might take some time and effort to confirm the appropriate size.
There are some cases, like the one below, that have built-in locks. These come with their own lock and key system.
fsdc mlc5200 caretaker steel lockable gun case & security box
Amazon Affiliate Link
Lockable
hard-sided
9.5″ x 6.5 "
Padding included
The other, possibly more common type of handgun case is one that does not have a built-in lock. These cases seem to have stronger claims, such as weather and water resistance.
These type of cases have additional padlock holes that allow you to add your own lock for extra security.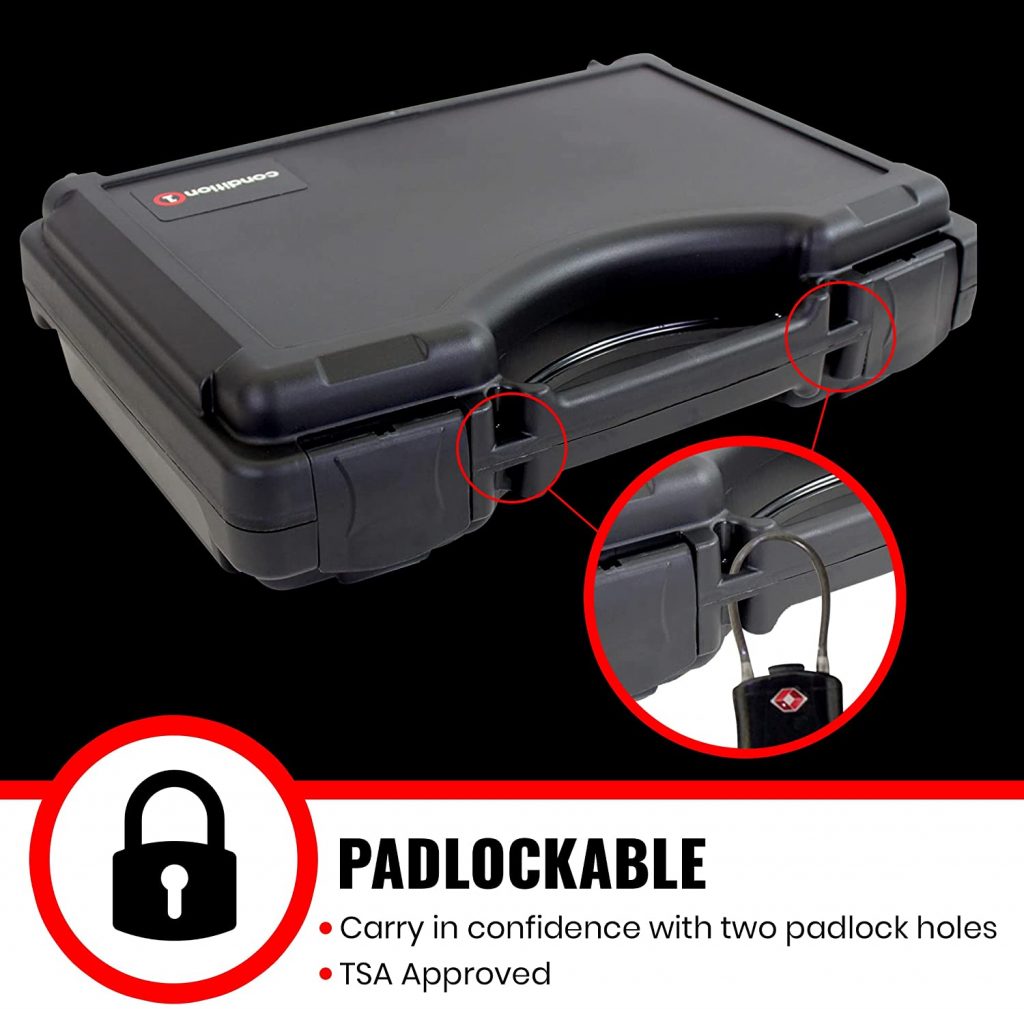 condition 1 economy series hard plastic pistol gun case
Amazon Affiliate Link
Lockable with padlock holdes
Hard-Sided
Padding included
13.8 in x 7.75 in x 3.17 in
Shotgun and Rifle Cases
Shotguns and Rifles are much larger than handguns and can be more difficult to transport.
They come in a variety of sizes, but most fall in the 42 – 48 inch range.
I was unable to find any type of rifle or shotgun case that has a built-in lock, but most of them had multiple padlock holes to install your own locking system.
condition 1 48 in single scope hard plastic rifle case
Amazon Affiliate Link
Lockable with padlock holes
Hard-sided
Padding included
48.24 in x 8.28 in x 3.8 in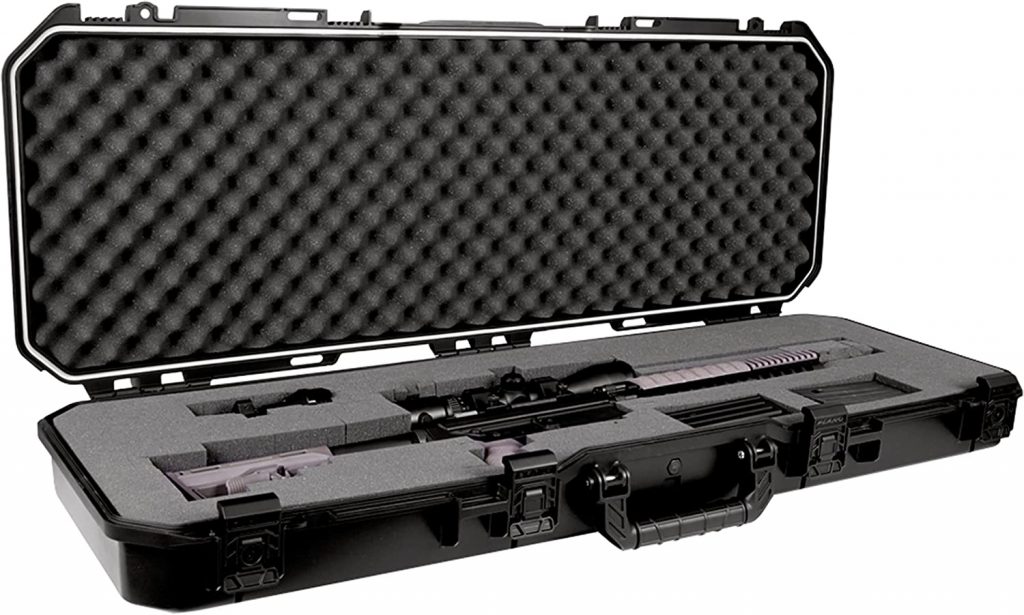 Plano all weather tactical gun case 42 in
Amazon Affiliate Link
Lockable with padlock holes
Hard-sided
Padding included
If you happen to find a lockable case on its own, you will need to worry about the next step, but otherwise, you must make sure you have your own padlocks. It is recommended to have a unique key since combination locks are relatively easy to hack.
Ammunition
Ammunition must be stored in a separate container. I could not find any specific guidelines on how exactly this should be stored, but the Sheffield Field Box Ammo storage box seems to be one of the most popular.
This box is stackable on top of each other, has a padlock hole, and can easily be used for long-term storage as well.
sheffield field box ammo storage box
Amazon Affiliate Link
Lockable
Stackable
11.5 x 5.06 x 7.25 inches
Truck Bed Gun Storage
In a pickup truck, it is best to place the locked firearm case in a lockable truck bed toolbox.
This means that it is recommended that you have a secure toolbox in the bed of your truck, that can fit the gun case and can lock.
One of the best truck tool boxes on the market is the one from Decked.
They have a wide variety of shapes and sizes that can fit almost any truck.
They probably can also make sure that the case that you buy will fit in the toolbox.
A cheaper alternative to the Decked toolbox is the TruXedo TonneauMate.
This toolbox is unique because it can fit under a tonneau cover (if you have one). This can be drilled and secured into the bed of your truck without covering any of the bed floor.
It seems to fit most full-size trucks.
TruXedo tl tonneaumate toolbox
Amazon Affiliate Link
Lockable
55 x 23 x 15 inches
Fits under most Tonneau Covers
Weather Guard also has some good truck toolbox options within a variety of price ranges.
If a toolbox is out of the question, you will need to find some other way to secure your firearm in your truck.
You must make sure that your firearm and ammunition are not within reach from the driver's side of the vehicle.
This means that if you have a regular cab truck, you will need to find a way to secure and lock your firearm in your truck bed.
If you have two rows, it may be possible to place the locked case on the floor of the back seat.
The Home Depot has a great guide on how to install a truck bed toolbox to help you out.
Gun Law Links by State
I did my best to find the best governmental resource to find your local gun laws. These should be fairly reliable resources to investigate your state gun carry laws.
These sites should be a good starting point to help you find the appropriate gun laws in your state or others states you're traveling to. (But seriously, the Legal Heat book is probably worth your time).
I apologize for the states missing. If you find a good resource to add, please add a comment below and I will add it to this list.
Delaware
Hawaii
Kansas
Kentucky
Louisiana
Maryland
Mississippi
Missouri
Nevada
New Jersey
Oregon
Conclusion
The best practices for transporting a gun in a truck are to:
Unload the firearm
Store the firearm in a hard-sided, lockable box
Lock the gun case in a tool box in the bed of your truck
Package your ammunition and place it in the back seat of your truck as far away from the driver as possible
These guidelines will help you in transporting your gun, but they are only a recommendation. They are not legal advice.
Making the right decision is completely up to you. You are responsible for knowing the local, state, and federal laws regarding transporting, owning, and operating your firearm.
Find the right truck bed toolbox for your vehicle today!