The new 2022 Ford Maverick is a high, in-demand pickup truck that has a hybrid engine.
In this article, we will review all the dimensions of the truck both exterior and interior and review some of the coolest features.
The Maverick only comes in one size, with one cab, and one bed size. This means that the exterior dimensions are virtually the same between vehicles.
There are, however three different trims: XL, XLT, and LARIAT. The main differences here only refer to cosmetic changes in the exterior and interior, but the body of the size remains the same.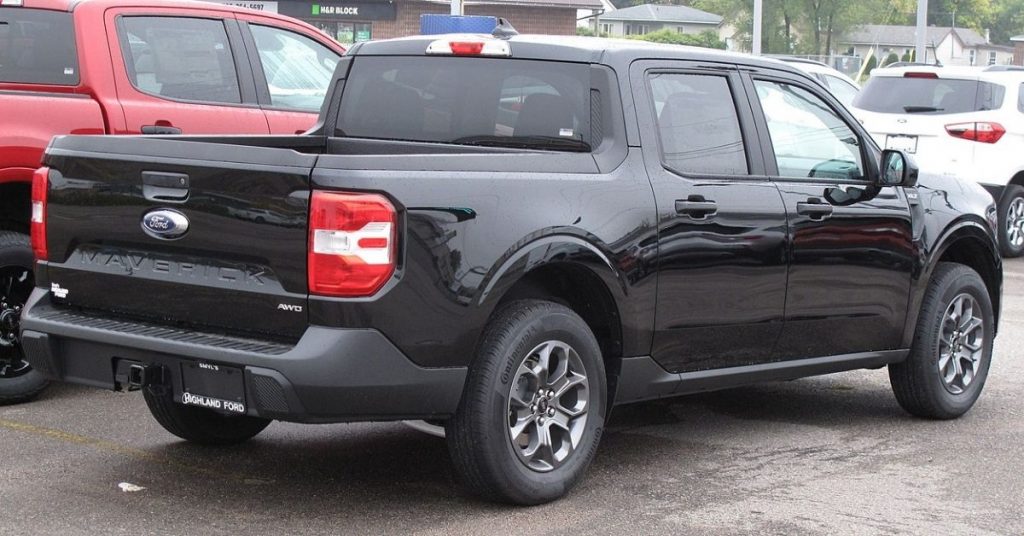 Ford Maverick Trunk and Cargo Space
Length
Width
between wheel wells
Width
maximum
Height
Volume
54.4 in (4 ft 6.4 in)
42.6 in (3 ft 6.6 in)
53.3 in (4 ft 5.3 in)
20.3 in (1 ft 8.3 in)
33.3 cu. ft.
2022 Ford Maverick Truck Bed and Cargo Volume Dimensions
The Ford Maverick truck bed is quite small compared to other half-ton and quarter-ton trucks.
There is only one option for installation for the 2022 model. The bed is 54.4 in (4 ft 6.4 in). Most other trucks on the market are between 5 ft and 8 ft.
The bed is similar in width to other trucks with 42.6 inches between wheel wells and a maximum width of 53.3 inches.
It is also a fairly average height at 20.3 inches.
Because of the short bed length, the cargo volume is much lower than others with 33.3 cu. ft.
Ford Maverick Cab Space
There is only one type of cab featured on the Maverick with is the Supercab. This means that there are two rows in the cab which can seat 5 people.
There are two fully functioning doors in the front and back rows on both sides.
Head Room
(with moonroof)
Leg Room
Hip Room
Shoulder Room
Front
40.3 in
(38 in)
42.8 in
55.4 in
57.3 in
Rear
39.6 in
(39.5 in)
35.6 in (hybrid)
36.9 in (gas)
54.1 in
55.6 in
Interior Cab Dimensions for Ford Maverick 2022
Ford Maverick Exterior Dimensions
Overall Length
Overall Height
Overall Width
Width (including mirrors)
Width (mirrors folded)
199.7 in
(16 ft 7.7 in)
68.7 in
(5 ft 8.7 in)
72.6 in
(6 ft 0.6 in)
83.5 in
(6 ft 11.5 in)
77.9 in
(6 ft 5.9 in)
Exterior Dimensions of Ford Maverick 2022
The Ford Maverick has the same dimensions independent of the trim and engine.
It is 199.7 inches long, 68.7 inches high, and 72.6 inches wide.
With mirrors extended it sits at 83.5 inches wide, and 77.9 inches with the mirrors folded.
Fuel Efficiency and Fuel Capacity
There are two engine options with the Ford Maverick. The first is the hybrid and the second is gas.
The hybrid engine is a 2.7L FHEV engine that gets 191 hp @ 5,600 rpm and 155 lb.-ft of torque @ 4,000 rpm.
It gets up to 42 mpg in the city and 33 mpg on the highway.
It can hold a total of 13.8 gallons.
The fully gas engine is the 2.0L EcoBoost which is offered in many of the other Ford trucks.
It gets 250 hp @ 5,500 rpm and 277 lb.-ft of torque @ 3,000 rpm. It is no surprise that this is a stronger engine than the hybrid.
Similarly, it has worse fuel efficiency in the city with 23 mpg but maintains a 30 mpg on the highway. The AWD version of the EcoBoost expects 22 mpg in the city and 29 mpg on the highway, just slightly lower than the FWD version.
This engine is larger with 16.5 gallons of capacity.
MPG
city/highway
Power
Fuel Capacity
2.5 L Hybrid
42/33
191 hp @ 5,600 |155 lb.-ft @ 4,000
13.8 gallons
2.0 L Gas
23/30
250 hp @ 5,500 | 277 lb.-ft @ 3,000
16.5 gallons
Fuel Efficiency, Power, and Capacity of Ford Maverick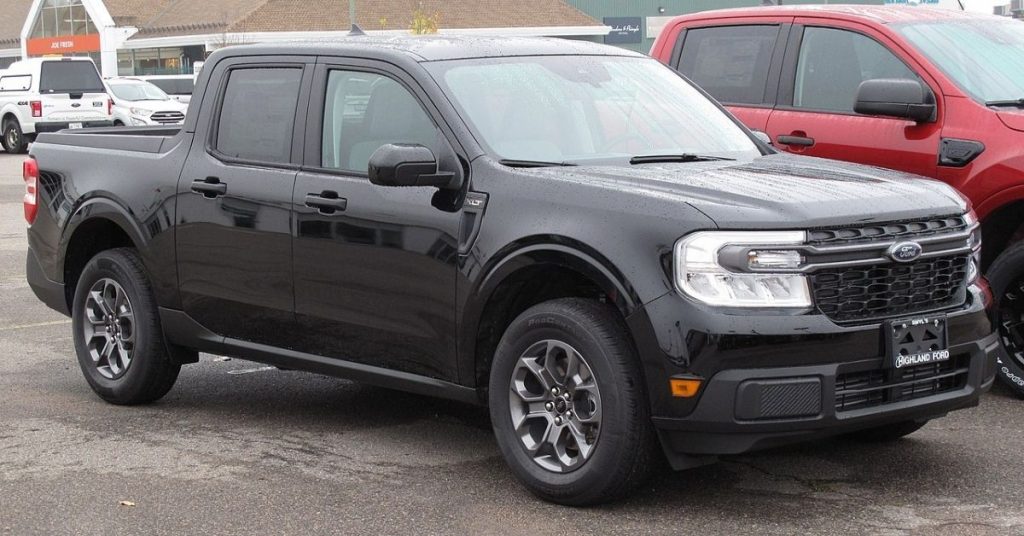 Ford Maverick Special Features
Safety Features
Each of the Ford Maverick trucks are equipped ith the Co-Pilot360 Technology. This includes standard emergency braking, but all other features are optional. This is part of the Ford Co-Pilot360 Package.
Pre-Collision Assist with Emergency Braking
Emergency automatic braking is the way of the future. It works by detecting pedestrians and cars in front of the vehicle and will engage the brakes in case the driver doesn't do so in time.
BLIS with Cross-Traffic Alert
There are built in sensors towards the back of the bed by the back lights which can indicate whether there is a car or person in your blind spot.
This helps with backing out of spots in a parking lot and changing lanes on the highway.
Lane-Keeping System
This system will detect the lane lines around you and will warn you when you are drifting off into another lane.
Adaptive Cruise Control
Adaptive cruise control is a really cool feature that puts your car in cruise control but also controls the speed of your vehicle based on the others around you.
So if you are approaching another car, your car will start to slow down.
The Ford Maverick can even bring the car to a stop and return to the desired speed when traffic resumes.
Convenience Features
FordPass Connect
This feature connects with your vehicle to an AT&T network allows you to start/stop, lock/unlock, locate vehicle, check fuel level and oil life from your connected device.
The FordPass App must be used. Unfortunately, the FordPass Connect is not available in the standard stock and must be ordered separately.
Outlets
The Maverick has two regular power oulets in the truck. It has one in the cab and one in the bed.
These are 400-watt 110 V outlets.
FLEXBED
Even though the truck bed of the Maverick is small, it is very mighty.
It has a lot of flexibility. I mean its so cool I don't think my words can do it justice. Just check out the video below!
Performance Features
Other than engine selection, the only other way that performance can be improved is by purchasing the 4K Tow Package.
This package is only available in the gas engine, though.
What allows the Maverick to carry more is that it has a Class III trailer hitch receiver installed and a seven-pin connector.
It doesn't appear that it actually makes any other changes to the powertrain of the truck.
Want to know the towing capacity or payload capacity of the Ford Maverick? then check out Towing & Payload Capacity of Ford Maverick