At the end of 2022, there were three fully electric pickup trucks on the market. These are the Rivian R1T, the Hummer EV Pickup, and the highly popular Ford F-150 Lightning.
Over $2.2 Billion dollars were spent on just these three trucks alone!
66% of these sales were from the Rivian R1T, 29% of the sales were Ford F-150 Lightnings, and 4.2% of sales were from the GMC Hummer EV Pickup.
Compared to total pickup truck sales, EV trucks make up 1.8% of the total pickup trucks sold in the U.S. in 2022 and 2.3% of total sales revenue.
In total, Americans spent over $95 billion dollars on pickup trucks in 2022. See full breakdown in 2022 Pickup Truck Sales Data.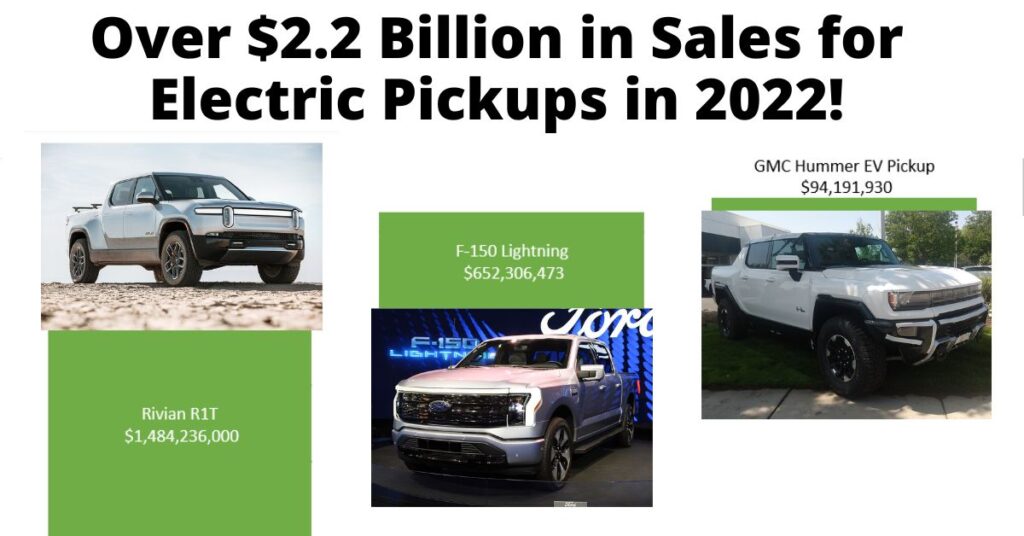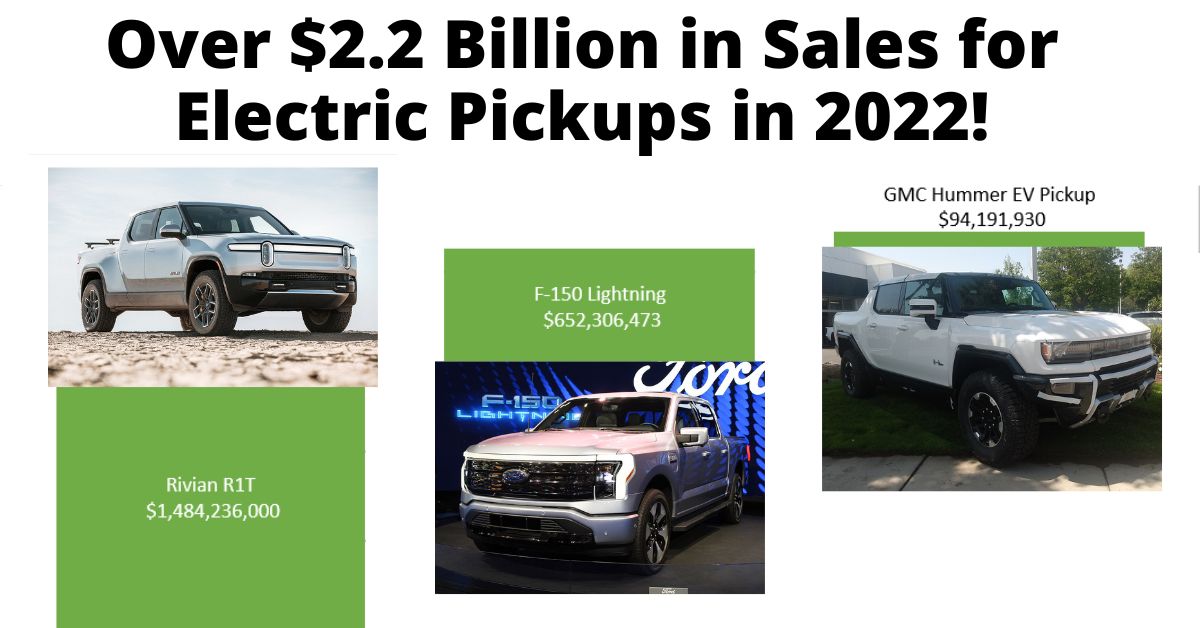 Rivian R1T 2022 Sales
The Rivian R1T was the first full electric pickup truck that was launched to market. It was supposed to initially launch in at the end of 2022, but after a few delays was launched in September 2021 (Source).
In 2022, Rivian delivered 20,332 vehicles (Rivian.com). This includes both the R1T pickup and the R1S van. More than likely, most vehicles sold were the R1T, but this isn't confirmed. For the sake of this report, we are assuming that the entire volume is the R1T, which is above the actual amount, which hasn't been specifically reported by Rivian.
The 2022 Rivian R1T had a minimum MSRP of $73,000. This means that upwards of $1.4 billion dollars was spent on the Rivian R1T in 2022.
Rivian R1T Overview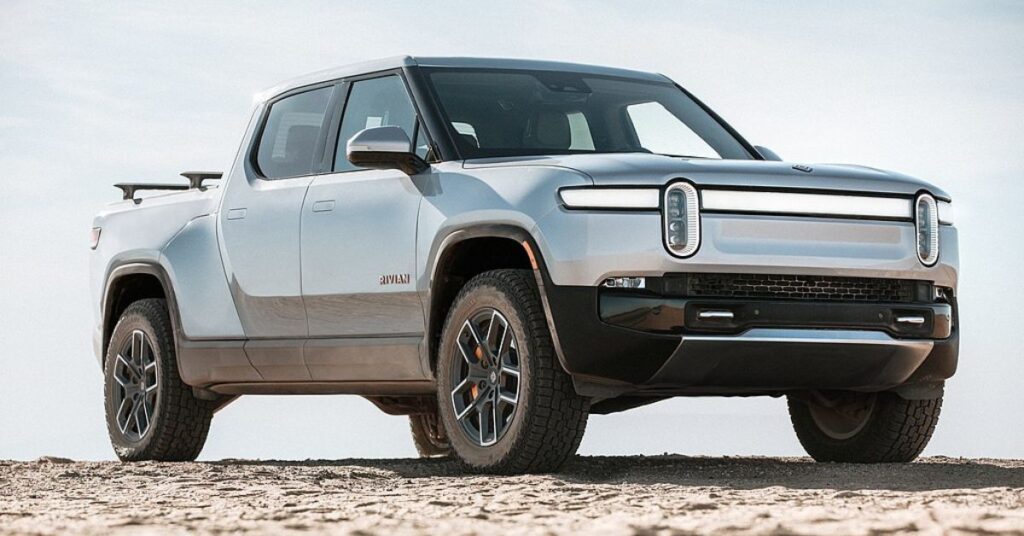 The Rivian R1T is a luxury electric pickup truck with premium leather seats and wood interior. It has a panoramic moonroof with a Driver+ hands-free driving assistant. It is a very high tech vehicle with 11 built in cameras, 12 ultrasonic sensors, and 5 radars.
It's also has some of the top pickup truck performance with up to an 11,000 lb towing capacity with all-whee drive and an expected charge range of 260-400 miles (Rivian.com). There is only one trim level with a few extra options for customization.
Ford F-150 Lightning 2022 Sales
The Ford F-150 Lightning is the most affordable electric truck on the market, putting it in high demand.
In 2022, Ford sold 15,617 Ford F-150 Lightnings. This amounts to a minimum $652 million of sales for the F-150 Lightning based on a minimum MSRP of $41,769.
The Ford Lightning was first announced on May 19, 2021 at the Ford headquarters in Dearborn, MI (CNBC).
It took a full year for the truck to become available in the Spring of 2022.
The demand for this truck was incredible. By March, 2022, there were already over 200,000 preorders with a possible estimation of 3 years for delivery! (Motorbiscuit)
So it is clear that in 2022, Ford could not keep up with the demand and the low selling number in 2022 was due to manufacturing constraints rather than lack of interest.
Ford F-150 Lightning Overview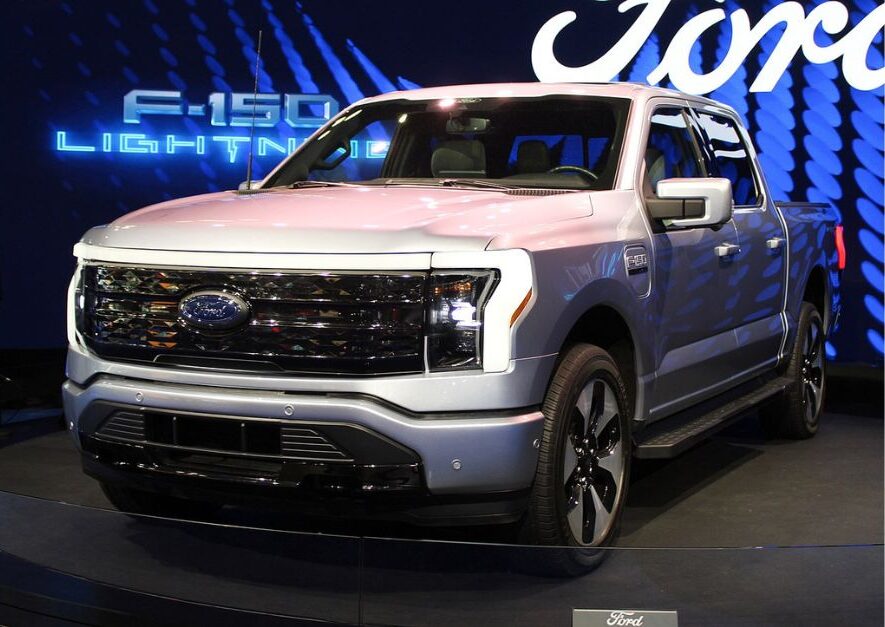 The Ford Lightning is the most affordable electric pickup truck, with comparable performance to the Rivian R1T.
It has a slightly less towing capacity at a maximum of 10,000 lbs, and an estimated range of 320 miles. The power supplied is 580 hp and 775 lb-ft of torque.
There is a hands free mode for highway driving, and it offers many other high tech features, but is less luxurious than the R1T.
There are multiple trim levels offering variable levels of performance and extra features.
Hummer EV Pickup 2022 Sales
The Hummer brand which was discontinued in 2010 was maintained by GM and resurfaced in 2022 as the GMC Hummer EV brand.
So in 2022, GMC offered the Hummer EV Pickup. Sales for this truck officially opened in fall of 2021 (OctaneGMC).
In 2022, GMC sold 854 Hummer EV pickup trucks yielding at least $94 million in sales with a minimum MSRP of 110,295.
GMC Hummer EV Pickup Overview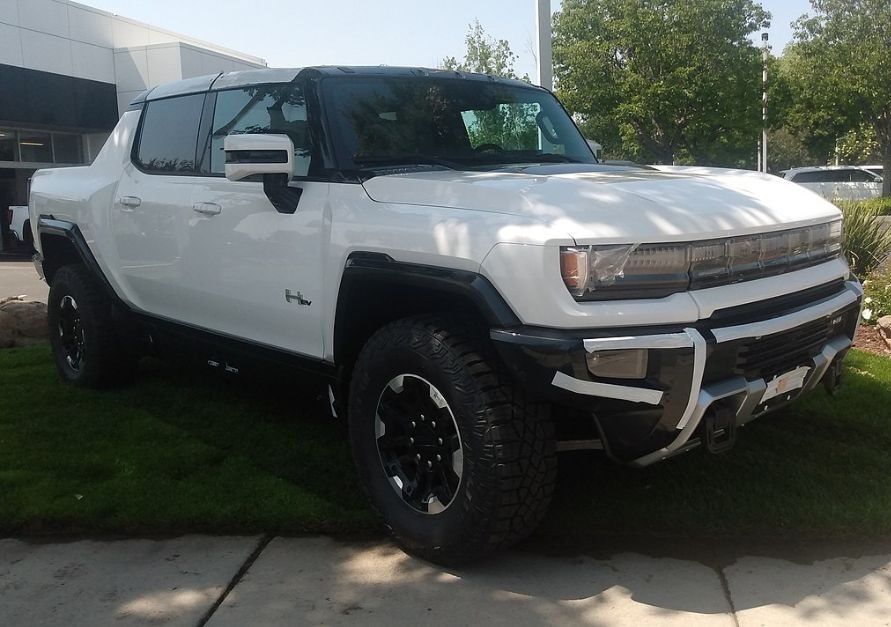 The GMC Hummer EV Pickup is the most expensive electric pickup truck of the three options. This creates a high barrier to entry for many consumers which contributes to the low sales in 2022.
But with it's high price, you are paying for the premium brand name Hummer.
This electric pickup has the lowest towing capacity of the group at 6,000 lbs, but can provide up to 1000 hp and 11,500 lb-ft of torque.
It has a comparable range of estimate 350 miles per charge.
It also comes with driving assist for hands free driving for compatible roads, just like the other trucks on this list.
One of the very unique features of this pickup are the modular, removable and adjustable fully transparent sky panels for incredible viewing from the inside of the truck.
It prides itself on its off road capabilities having a crab walk (diagonal driving), high tech real time vehicle data, underbody cameras, and adjustable ride height (GMC).
The Data
The information pulled from this article was pulled from very reputable resources. The following chart provides links to the resources for which this information was pulled.
2022 Electric Pickup Truck Sales Data Resources
The MSRP taken for each of the vehicles above is the starting MSRP that could be found for the 2022 version of the pickup truck discussed. This was taken to create a baseline for the sales for each pickup truck.
This means that the estimations below and discussed in this article are minimum values in revenue sales for the year 2022.
| | |
| --- | --- |
| | Calculation |
| Rivian R1T Sales in $ | 20,332 x 73,000 = $1,484,236,000 |
| Ford F-150 Lightning Sales in $ | 15,617 x 41,769 = $652,306,473 |
| GMC Hummer EV Pickup Sales in $ | 854 x 110,295 = $94,191,930 |
| Total EV Pickup Truck Sales in $ | Sum of above results = $2,230,734,403 |
2022 Sales of Electric Pickup Trucks in Dollars ($)
The Future of the Electric Pickup Truck
Electric pickup trucks, as well as electric vehicles are growing in popularity. Pickup trucks have been particularly challenging because electric pickup trucks can't provide the same level of power and utility that historical pickup trucks have been able to do.
However, this year, we saw some great performance for the first generation of electric pickup trucks.
With the release of the Ford F-150 Lightning, a more affordable option has entered the market forcing other manufacturers to produce an affordable and capable truck.
We are seeing that come in the industry with the recent announcement of the RAM Revolution, and the expected upcoming GMC Sierra EV, Chevy Silverado EV, and the Toyota Tacoma EV.
If Ford can keep up with the high demand, we would expect the F-150 Lightning to dominate total EV pickup truck sales in 2023.
Conclusion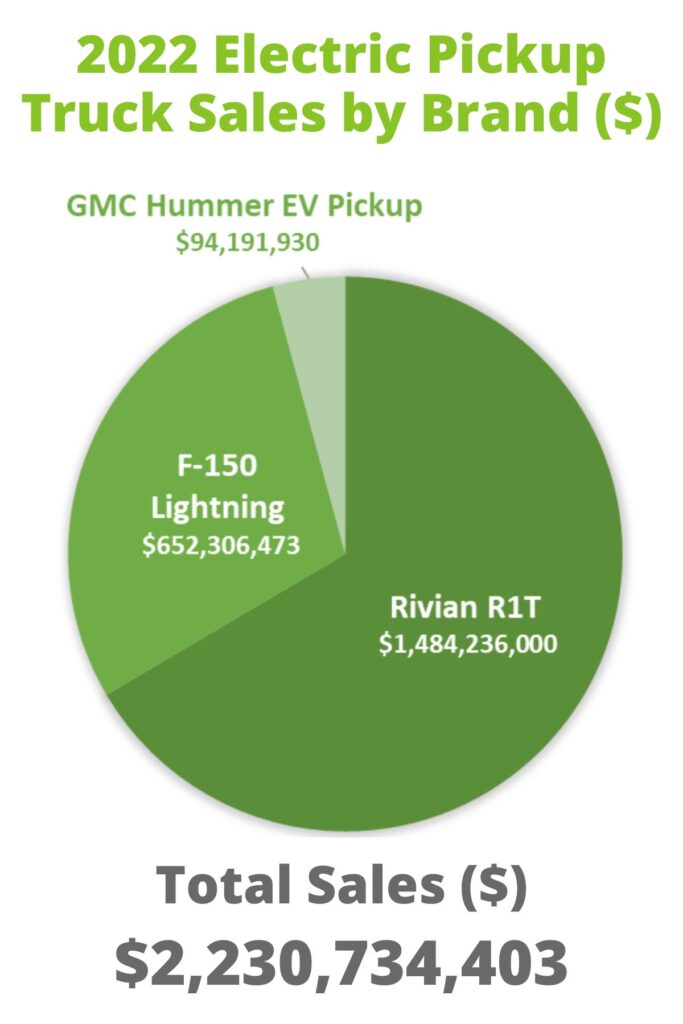 There were over $2.2 Billion in sales on electric pickup trucks alone in 2022 in the U.S. This composed of only 2.3% of the entire spending market for pickup trucks.
The sales in 2022 electric pickups is broken down into only three pickup trucks: Rivian R1T, Ford F-150 Lightning, and the GMC Hummer EV Pickup.
The Rivian sold 20,332 vehicles in 2022 yielding $1.4 billion in sales making up 55% of vehicle sales and 66% of dollar sales in the EV pickup truck market.
The Ford sold 15,617 F-150 Lightning pickup trucks in 2022. This yields a minimum of $652 million in sales. This makes up 42% of vehicle sales and 29% of dollar sales in the EV pickup truck market.
The GMC Hummer EV Pickup was sold 854 times yielding a minimum $94 million in sales. This makes up 2.3% of vehicle sales and 4.2% of dollars sales in the EV pickup truck market.
Check out total 2022 Pickup Truck Sales and breakdown by brands.