The Ford F150 is one of the most popular pickup trucks on the market.
Every car needs to change its engine every 3 months or every 3,000 miles, whichever comes first.
The Ford F150 requires SAE 5W-30 for all engines except the 3.3L Ti-VCT V6 engine which takes SAE 5W-20 and the 5.2 L engine which takes 5W-50.
Ford does recommend that a different type of engine oil is recommended when your truck is operating at temperatures below -30C (-22F).
See the table below for the recommended oil type for Ford F150 by engine.
Not looking for 2023? Need another year?
Below is a link to information for each year that provides oil types, capacities, and types of filters used for each year.
You may also like: How long can you go without an oil change before it's too late?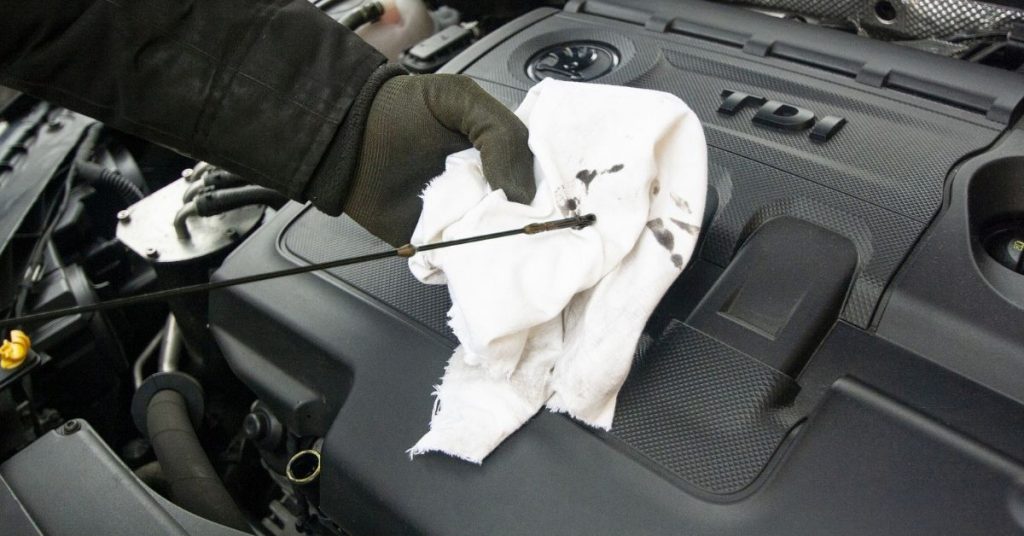 How do I know what engine I have?
You can always check under your hood and locate your engine. It should specify somewhere on the engine or the engine cap to identify which engine you have.
Similarly, some engines also list the recommended oil type.
The Ford F150 has 8 different versions and each come with their own base engine.
If you bought the car stock without any upgrades or modifications, find your model below.
If you have a different engine you will need to find out what engine you have.
You can do this by entering your VIN on this site on Autozone.
Ford makes it a point to mention that Motorcraft synthetic or Super Premium engine oil is best for your Ford F150.
If Motorcraft is unavailable, using synthetic oil that meets the recommended viscosity grade and meets API SP requirements and has the API Certification Mark should do the trick.
2.7L EcoBoost V6
The 2.7 L EcoBoost is a V6 engine with a 325 horsepower port-fuel and direct injection (PFDI) system and has 400 lb-ft of torque.
The 2.7 L EcoBoost engine has a capacity of 6 quarts. For most cases it requires 5W-30 engine oil.
However, there are limitations for the 5W-30 for extremely cold temperatures. If your Ford F150 is going to be used less than -29 C (-20F), you will need SAE 0W-30.
3.3L Ti-VCT V6
Ti-VCT stands for twin independent variable cam timing with opens and closes engine valves at optimal times for operating conditions.
It is a V6 engine which has 290 horsepower and 265 lb-ft of torque.
The 3.3L engine requires an oil type of SAE 5W-20 with a 6 quart capacity.
Operating this engine below -29C (-22F) requires the use of SAE 0W-20 instead.
3.5L EcoBoost V6
The 3.5L EcoBoost is a larger version of the 2.7L V6 engine above. It has a 10 speed transmission with a 400 horsepower and 500 lb-ft torque rating.
Its tow rating can be up to 14,000 lbs.
The 3.5L EcoBoost is a twin-turbo engine that has 450 horsepower and 510 lb-ft of torque.
The EcoBoost 3.5L engine used SAE 5W-30 oil with a 6 quart capacity.
For temperatures below -29C(-22F) SAE 0W-30 is required.
3.5L PowerBoost Full Hybrid V6
This hybrid vehicle uses both gas and electric power to fuel its 430 horsepower and 570 lb-ft of torque. Its towing capacity can be up to 12,700 lbs making it the best hybrid engine for towing.
Hybrid vehicles still need engine oil and the 3.5L hybrid engine in the F150 needs SAE 5W-30 oil.
It has a capacity of 6 quarts.
Below -29C(-22F) SAE 0W-30 needs to be used.
5.0L Ti-VCT V8
Though it is the largest engine it delivers 400 horsepower and 410 lb-ft of torque, similar to other engine types.
The standard 5.0L engine on the F150 needs SAE 5W-30 oil.
For the low temperatures -29C(-22F) SAE 0W-30 is needed.
5.2 L Supercharged V8
This engine is the largest engine of the F150 family needing an oil volume of 11.5 quarts.
The 5.2 L engine on the F150 needs SAE 5W-50 oil.
What do different oil types mean?
Why do you need engine oil?
Without getting into too many details, engine oil is required to reduce friction within the moving parts of your engine (such as your pistols).
Oil provides a barrier between parts in your engine to keep your car from overheating or stripping away.
Over time the oil in your engine becomes thick and it needs to be replaced to prevent serious damage or complete failure to your truck.
Changing your oil every 3000-5000 miles (or about every 3 months) is a good idea to keep your truck running in optimal performance (Firestone).
You may also like: How long can you go without an oil change before it's too late?
What happens if you put in the wrong type of oil?
What would be considered the "wrong type of oil"?
Using a different oil than is specified in the manual would be incorrect.
This means using any different oil rating than mentioned above.
You may be wondering if any oils are interchangeable and generally speaking the answer is no.
The Ford F150 2023 manual states that there are many risks to using the incorrect oil type.
Unfortunately at the worst, your entire engine could fail. Any damage that can be tracked from this error will likely warrant the warranty.
On the less severe side, your engine could weaken your performance, reduce fuel efficiency and increase emissions.
Ford also says that your car may no longer be under warranty if you cause engine damage from using supplemental engine oil additives. Avoid using oil additives on your F150.
How to change oil in a Ford F150
This video should help you if you are thinking of changing the oil in your Ford F150.
I highly recommend learning to change your own oil because it can save you hundreds a year!
Check out this video!
You may also like:
Information in article was taken from 2023 Ford F150 owners manual and Ford.com
Oil Type for Previous Years of Ford F150