The standard 2021 Ford Ranger towing capacity is 3500 lbs through the bumper. The max towing capacity of the 2021 Ford Ranger is 7500 lbs which can be achieved with the Trailer Tow Package.
Even though these are fairly hard and set numbers for towing capacity, but there are various weights for the payload capacity.
Because each of these trim and various options have minor differences in the curb weight of the vehicle, the payload is slightly different between each model.
The Payload Capacity of the 2021 Ford Ranger ranges between 1478-1905 lbs.
Check out the newest Ford Ranger Towing Capacity here
*All information was taken either from Ford.com or the 2021 Ford Towing Guide.
Though I tried to make this information as accurate as possible, you should always check your manual or contact your local dealer to determine the appropriate towing capacity of your vehicle and necessary equipment.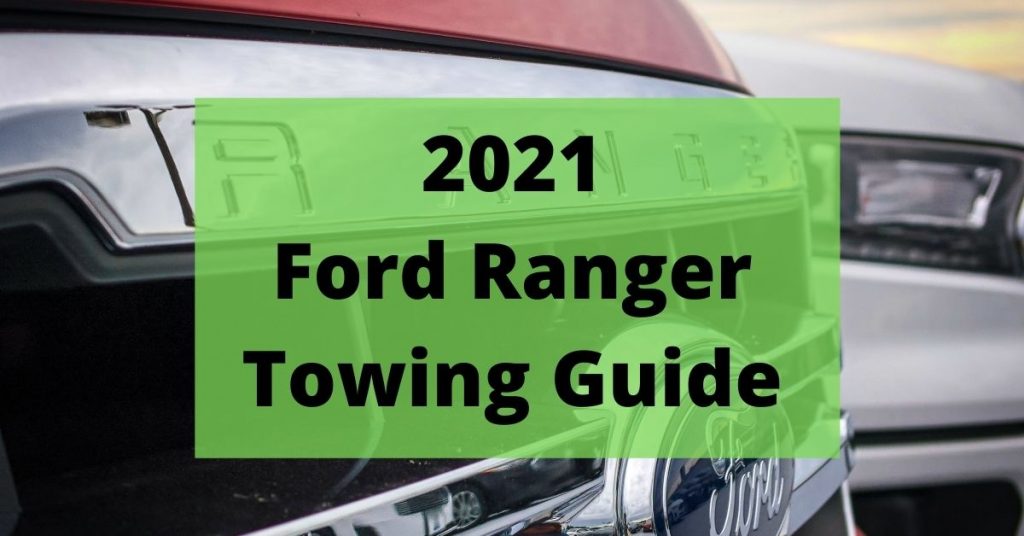 Ford Ranger Build Options
Trims
Unlike the Ford F150, the Ranger only comes in three different trim levels. These are the XL, XLT, and LARIAT.
The XL is the lower end, the XLT is middle, and LARIAT is the higher end trim with better luxury features.
All trims come with the same engine.
There is the ability to add a Sport, Black, Chrome, and STX but all of these are appearance packages.
The only package that affects the towing capacity is the Tremor package which is only available in the SuperCrew.
Cab Size
The Ford F series come in regular, SuperCab, and SuperCrew cab options, but the Ranger only comes in SuperCab and SuperCrew.
Both of these models have two rows and two doors, but the SuperCab can only accommodate 4 passengers while the SuperCrew can hold 6.
Bed Size
There is no long bed option with the Ranger, but there is a 6ft and 5 ft bed.
The short, 5 ft bed comes on the SuperCab and the 6 ft bed comes equipped on the SuperCrew cabs.
Ford Ranger Towing Technology
BLIS with Trailer Coverage
BLIS stands for Blind Spot Information System which has the ability to alert a driver when there is a car in the blind spot, including the area beside a trailer (Ford).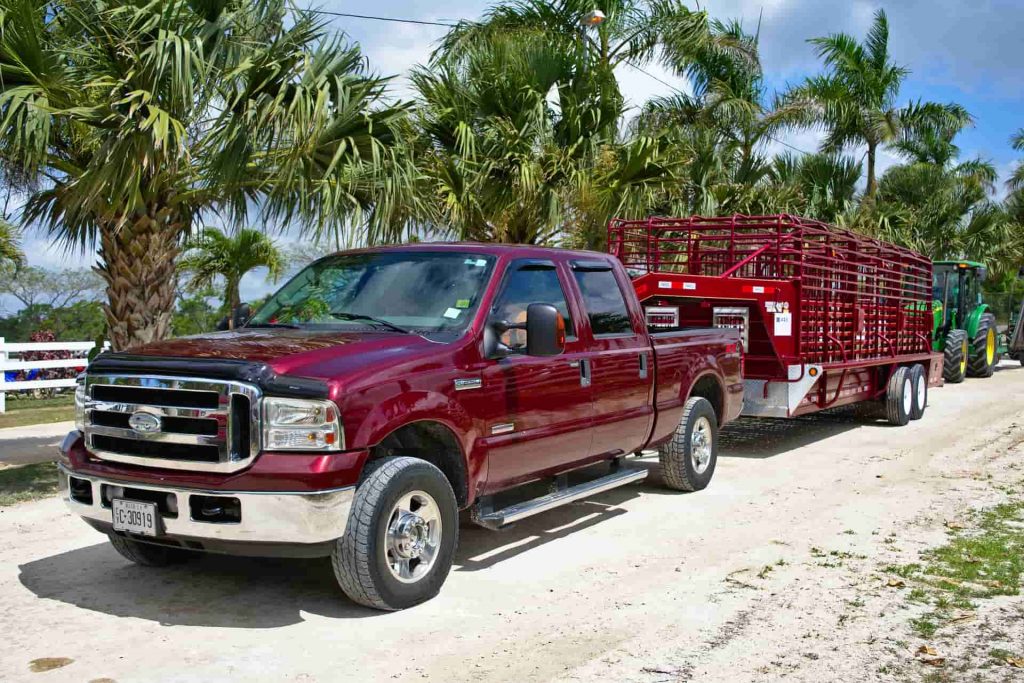 Engine Specifications
There is only one type of engine available in the Ranger which is the 2.3 L EcoBoost engine with an automatic transmission.
There is a 4×2 and 4×4 version available.
This engine has a maximum hp of 270 and a torque of 310 lb.-ft.
| | | |
| --- | --- | --- |
| | MPG City | MPG Highway |
| 4×2 | 21 | 26 |
| 4×4 | 20 | 24 |
| 4×4 – Tremor | 19 | 19 |
Ford Ranger 2021 MPG chart
Towing Capacity Ford Ranger 2022
Without any additional customizations, like the Trailer Tow Package, all 2021 Ford Rangers can tow 3500 lbs.
If any trailer is attached to the bumper over 3500 lbs, there will be problems. Heavier trailers need the Trailer Tow Package.
Below are the GCWR and max trailer weight for standard Rangers.
Cab Size
Bed Size
Axle Ratio
GCWR
(lbs)
Max Trailer Weight
SuperCab – 4×2
6 ft
3.73
8650
3500 lbs
SuperCab – 4×4
6 ft
3.73
8900
3500 lbs
SuperCrew (Tremor)
5 ft
3.73
9000
3500 lbs
SuperCrew – 4×2
5 ft
3.73
8750
3500 lbs
SuperCrew – 4×4
5 ft
3.73
9000
3500 lbs
Towing Capacity of 2021 Ford Ranger
If you're interested in the payload capacity of the Ranger, this can be found on the vehicle certification label in the location shown below. Just subtract the curb weight from GVWR to get the payload capacity.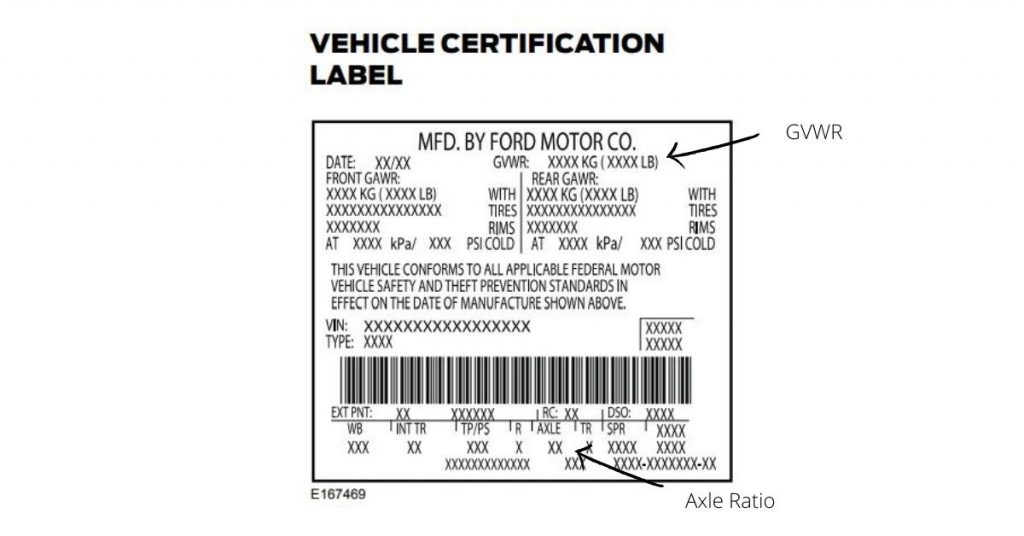 Trailer Tow Package Towing and Payload Capacity
The Trailer Tow Package is a very simple towing package offered with the Ranger. This package does not provide any additional power to the vehicle to increase the towing capacity, but it does allow the truck to accommodate heavier loads.
It adds a trailer hitch and 4/7 pin connector system for proper attachment. With the Trailer Tow Package, all Rangers can tow up to 7500 lbs.
The GVWR of the Ranger with the Trailer Tow package is 6050 lbs.
Cab Size
Bed Size
Axle Ratio
GCWR
(lbs)
Max Trailer Weight
GVWR
(lbs)
Payload Capacity
Curb Weight
SuperCab – 4×2
6 ft
3.73
12150
7500 lbs
6050
1905 lbs
4145 lbs
SuperCab – 4×4
6 ft
3.73
12400
7500 lbs
6050
1696 lbs
4323 lbs
Tremor SuperCrew
5 ft
3.73
12500
7500 lbs
6050
1478 lbs
4571 lbs
SuperCrew – 4×2
5 ft
3.73
12250
7500 lbs
6050
1818 lbs
4354 lbs
SuperCrew – 4×4
5 ft
3.73
12500
7500 lbs
6050
1609 lbs
4441 lbs
Towing and Payload Capacity of 2021 Ford Ranger with Trailer Tow Package
2021 Ford Ranger Towing Capacities Chart from Ford.com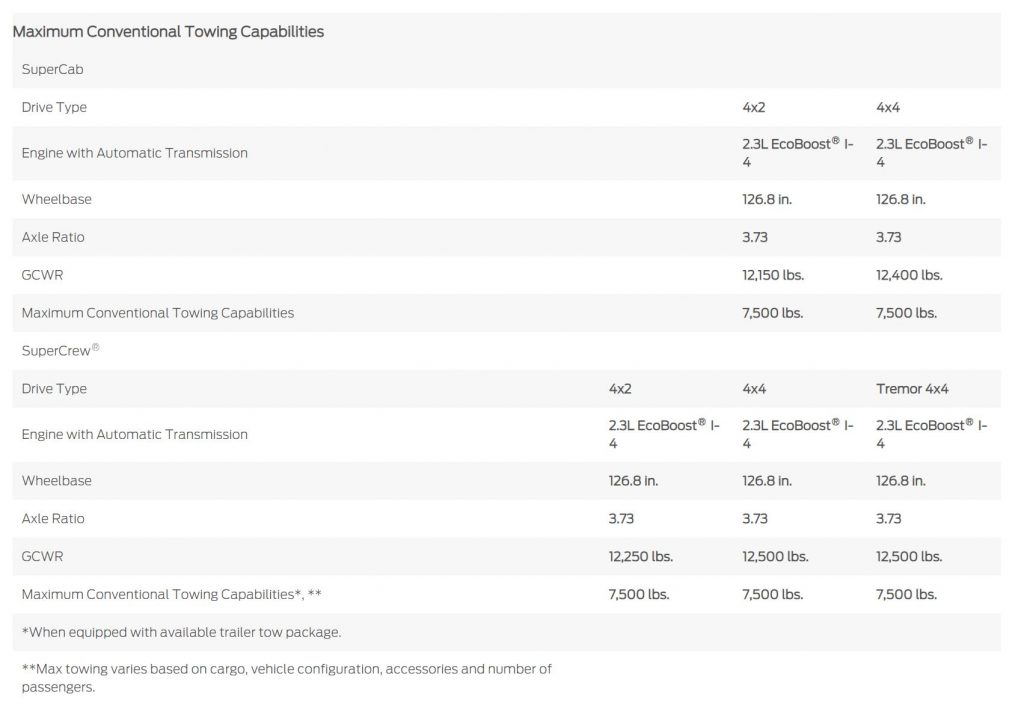 What can the Ford Ranger tow?
With a max capacity of 7500 lbs the Ford Ranger has pretty good towing capabilities and can tow many camper trailers, outdoor recreational vehicles (ATVs/motorbikes), and a wide range of boats.
The Ford Ranger without the Trailer Tow Package can still tow up to 3500 lbs which can accommodate some lightweight camper trailers and other smaller trailer objects and boats.
The key to knowing the actual amount you can tow is to use the GCWR calculation. This requires that you take into account many other factors such as cargo weight and passenger weight.
To make sure you are safely towing, check out How Towing Capacity is Calculated to find directions and a step-by-step guide to calculating the towing capacity at any given time (with a calculator).