If you have a 2020 Ford Ranger and need to know the towing capacity of your truck you have come to the right place.
Here you will find all the GCWRs and max trailer towing weights suggested by Ford. The information here is taken in combination with the 2020 Ford Ranger eBrochure and the 2020 Ford Trailer Towing Guide.
The 2020 Ford Ranger has a max trailer towing capacity of 7,500 lbs for all variations with the Trailering Package. Any Ranger without the Trailering Package can only support 3,500 lbs.
Ford says that the tongue weight for any towing should be no more than 10% of the trailer weight. So this should be taken into account when setting up your trailer.
Though I tried to make this information as accurate as possible, you should always check your manual or contact your local dealer to determine the appropriate towing capacity of your vehicle and necessary equipment.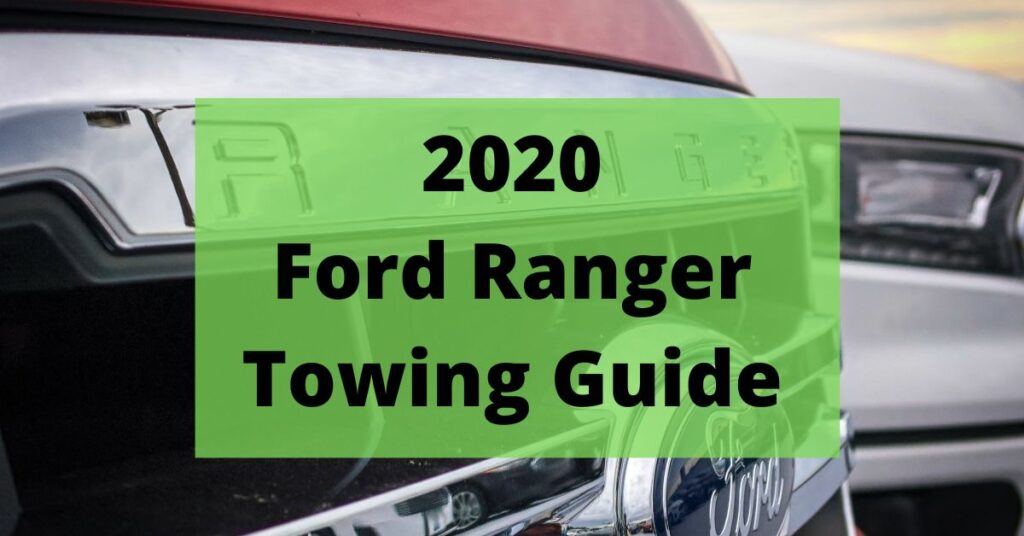 Trims
There are 3 trims in the 2020 Ranger series.
The main differences between these trims are the mechanical features available, appearance options available, and packages.
All the differences can be seen in the e-brochure.
Cab and Bed Sizes
The cab can either be a SuperCab or SuperCrew.
The SuperCab and SuperCrew can support two different rows of passengers.
The SuperCab is slightly smaller than the SuperCrew in length, rear-seat space, and rear door sizes.
Bed Sizes
There are only two bed lengths available in the 2020 Ford Ranger. There is a 6 ft and 5 ft bed.
The 6 ft bed is only available on the SuperCab while the 5 ft bed is only available on the SuperCrew.
Packages
The Ford Ranger has one towing trailer package available. This is the Trailer Tow Package (53R). This package is required for towing trailers and weights over 3,500 lbs and up to 7,500 lbs.
There are a couple of things that come standard on the 2020 Ranger, such as the 4-pin Trailer Wiring Harness and Trailer Sway Control.
Trailer Tow Package (Code 53R)
The Ford Ranger Trailer Tow Package comes with:
4-pin/7-pin Wiring Harness
Class IV Trailer Hitch Receiver
Tow/Haul Mode
Towing Capacity by Engine
There is only one engine available on the 2020 Ford Ranger. This is the 2.3 L EcoBoost I4 engine with 270 hp and 310 lb.-ft of torque.
2.3L ECOBOOST L4
The 2.3L EcoBoost L4 engine is a 10-speed automatic transmission engine with an axle ratio of 3.73. Its towing capacity ranges from 3,500 – 7,500 lbs.
Trailer Towing
Package
Towing Capacity
GVWR
Supercab
4×2/4×4
3,500
8,650/8,900
Supercab
4×2/4×4
x
7,500
12,150/12,400
Supercrew
4×2/4×4
3,500
8,750/9,000
Supercrew
4×2/4×4
x
7,500
12,250/12,500
2020 Ford Ranger 2.3L Ecoboost l4 Engine Towing Capacity
2020 Ford Ranger Towing Capacity Chart
The following chart is from the trailer tow guide from the Ford brochure. If there are any differences between this document and what's listed before, this is simply the information that came from the owner's manual (which is the most reliable source).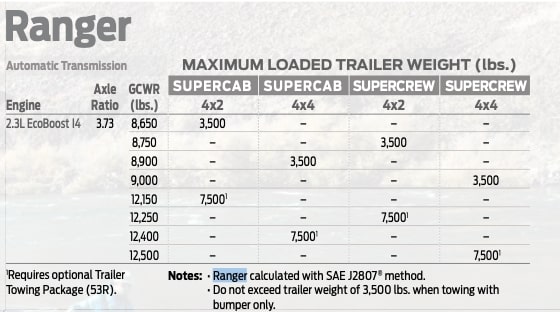 Payload Capacity
The best way to check the payload capacity is to find the GVWR listed on the certification sticker inside the driver's side door. But they are mentioned in the e-brochure.
The absolute maximum payload capacity in all of the 2020 Ranger is 1,860 lbs.
Payload Capacity
GVWR
Supercab
4×2/4×4
1,860/1,650
6,050/6,050
Supercrew
4×2/4×4
1,770/1,560
6,050/6,050
2020 Ford Ranger 2.3L Ecoboost l4 Engine Payload Capacity
Rear Step Bumper Towing vs Hitch Receiver Towing
However, even if you have a hitch receiver, this does not mean that you can tow the capacities listed above. You first need a proper hitch receiver (Class IV) and a weight-distributing trailer hitch if towing above 5,000 lbs.
You can, however, tow with the 2020 Ford Ranger through a step bumper ball hitch. This can hold up to 3,500 lbs (with a weight-carrying trailer).
In either case with a weight-carrying trailer or weight-distributing trailer, the tongue weight should not exceed 10% of the total trailer weight (according to the Trailer Tow Guide).
Weight Carrying Trailer Capacity
(Max Tongue Load)
Rear bumper
3,500 lbs
(300 lbs)
Hitch Receiver
7500 lbs
(750 lbs)
Max Tongue Load and Trailer Capacity for Rear Step Bumper and Hitch Receivers on 2020 Ford Ranger
Additional Resources
Conclusion
Ford states that the 2020 Ford Ranger has a max towing capacity of 3,500 to 7,500 lbs.
Though this guide provides good guidance on how much you can tow with your 2020 Ford Ranger, you should always calculate your towing capacity.
Not sure how? Read: How is Towing Capacity Calculated? Here you will find a helpful calculator as well.