Pickup trucks can be BIG!
They are both longer and wider than most other vehicles on the road. As they get more powerful, increase carrying capacity, add lifts, and add a trailer, these vehicles can be huge.
There are already enough tractor-trailers on the road, but now more pickup trucks are joining.
The world of pickup trucks is greatly expanding in recent years. During the start of the COVID lockdown, for the first time ever, pickup trucks were purchased more than passengers cars in the entire history of the United States.
But how big is the average pickup truck? What affects the size?
Of the 5 most popular full size and 5 most popular mid size trucks, pickup trucks range from 17′ 5.1′-21′ 0.2″ long, 6′ 1″ – 6′ 10.1″ wide and 6′ 0.4″ – 6′ 9.8″ high. This includes all bed sizes, cap sizes and drive. There is no singular truck in this group that has the smallest of every dimension. The specific dimension of your truck should be looked up in the manual or manually measured.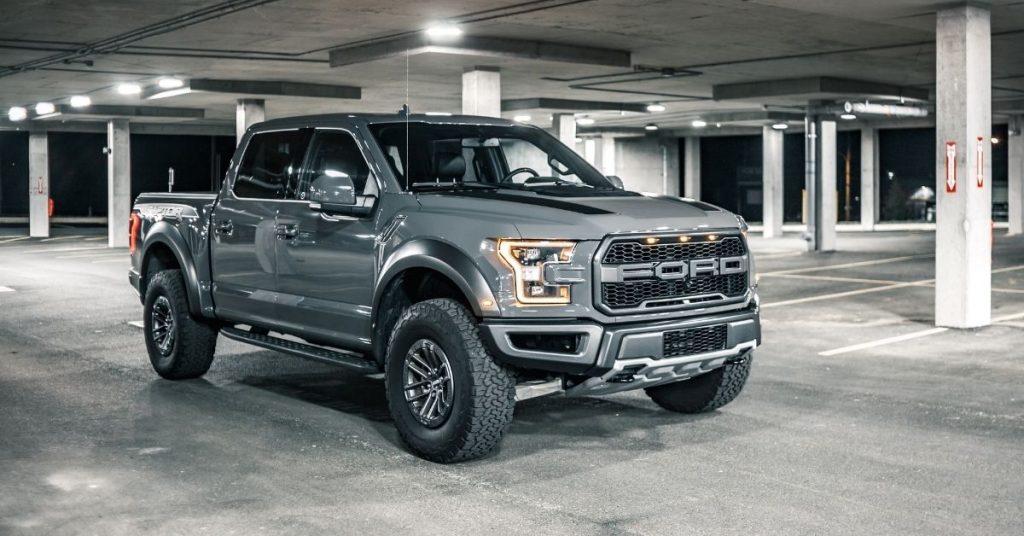 What Impacts the Size of a Pickup Truck?
The main factors that affect the size of a pickup truck is the bed size, cab size, bed style, wheel height, suspension, and trim.
Bed Size
Bed sizes typically come in the form of short, standard, and long. There is no specific classification of each of these types of lengths, but there are general normalcies.
The classifications of these bed sizes refer to the length of the bed from the front to the rear measured on the inside.
After taking a look at some of the most common pickup trucks (both full and mid-size) the long bed is 8 ft long, the standard is 6.5 ft and the short bed is anywhere from 5-6.5 ft.
These of course are estimates and averages based on the classifications and the actual measurement of these beds will vary by truck.
Cab Size
The cab refers to the part of the pickup truck where the driver and passengers sit.
Cab sizes are typically split into 3 main groups.
Regular cabs typically can hold 2-3 people (depending on a middle seat) and are also referred to as single cabs due to the cab having only 1 row of seating.
I haven't seen any specific name for the middle grouping between a regular and a crew cab. This cab usually can seat 4-6 people and has two rows.
The crew cab also seats 4-6 people with two rows, with the main difference being that there are 4 full-size doors.
The middle group usually has 4 doors, but the ones in the back are smaller. Sometimes they don't even have their own handle and just only be opened after the front doors are opened.
This middle group in the Dodge Ram trucks are called Quad cabs and in the Ford F series are SuperCab.
Bed Style
There are two main bed styles: fleetside and stepside.
Fleetside trucks refer to flat-sided trucks. This means that the tires wells are flush with the side of the truck. This minimized the width of the truck but also reduces the side of the truck bed. The tire wells protrude into the truck bed as seen in the yellow truck below.
Stepside trucks are less common in today's day and age. They are a truck in which the wheel wells are outside of the truck bed. In some cases, like the blue truck below, it barely adds any excess width, but in most stepside trucks I've seen today, they are much wider.
Stepside trucks allow for a perfectly rectangular truck bed. So to maintain the same dimensions on a fleetside and stepside truck, the wheels must extend outside the bed.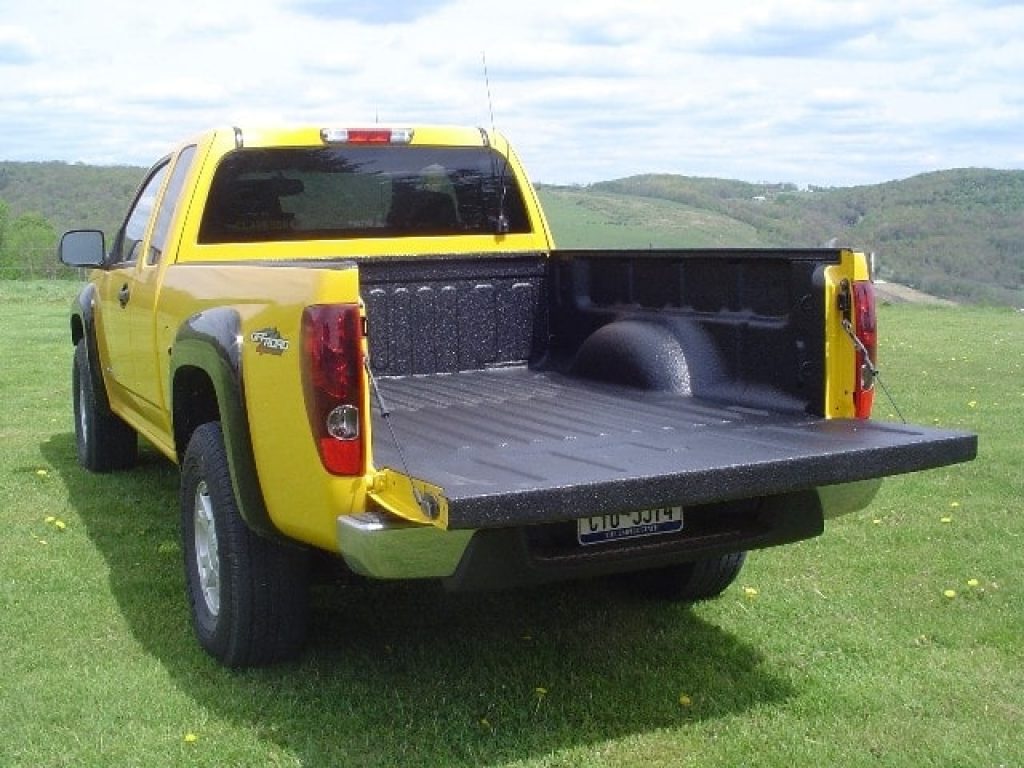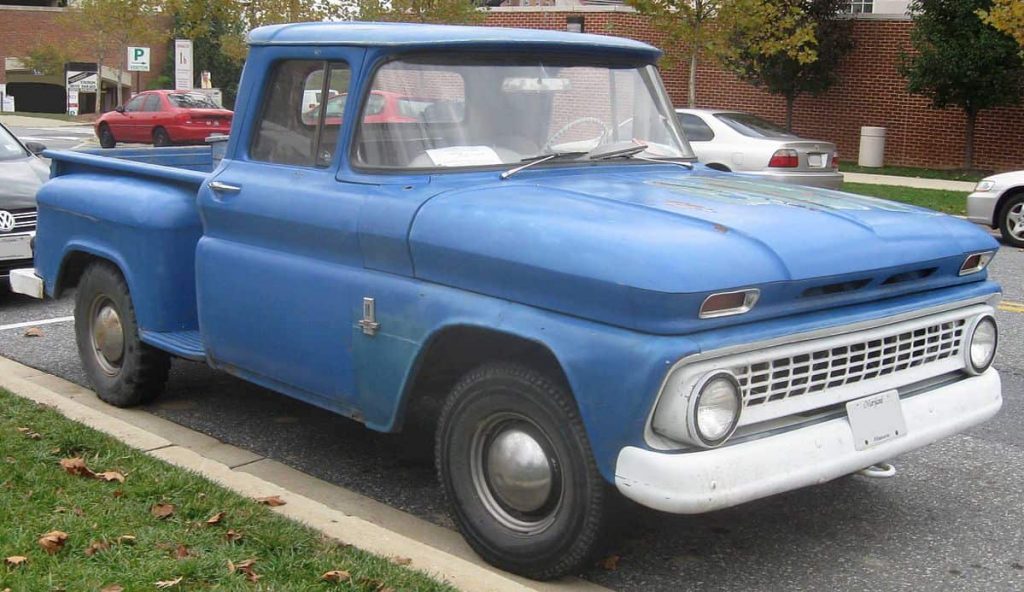 Ford uses their own terminology for these two types of bed styles. They use style side (for fleetside) and flareside (for stepside).
Wheels and Suspension
Wheel size and suspension affect how high the truck stands above the ground. Larger suspension systems (along with lifts) and larger wheels increase the height of a truck.
Trim
Trim simply refers to the design of the truck. This is something that is dependent on the manufacturer and although there will be similarities in the dimensions of these pickup trucks, there will be some variation depending on the model.
Drive
Suspension systems within trucks are different in four-wheel drive and two-wheel drive cars. The difference in the internal mechanism can affect the dimensions, more specifically the height of a vehicle.
Pickup Truck Dimensions Chart
When looking at the dimensions charts of a truck, there are a lot of numbers listed. There are many dimensions and a lot of them are not that common. Below is a diagram of the most common measurements of a truck that impact the overall height, length, and width of a pickup truck.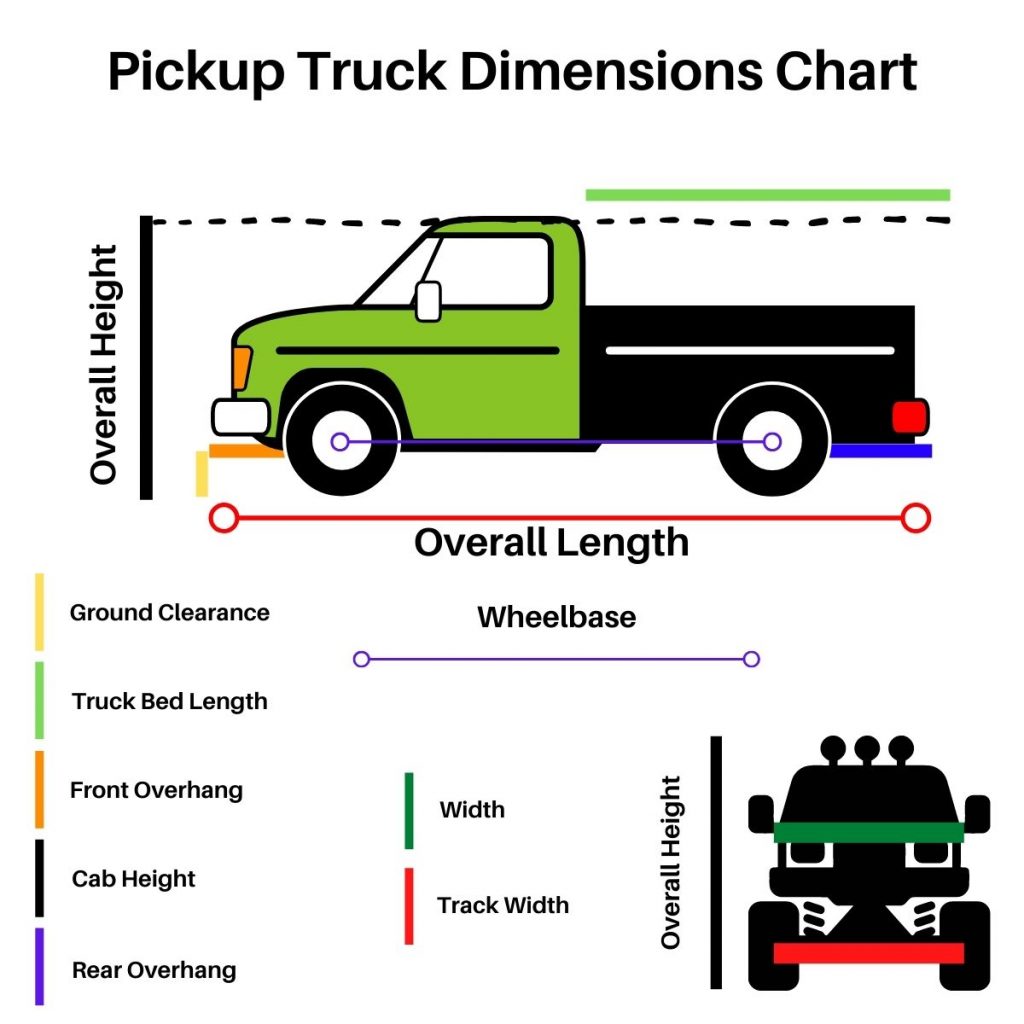 How Long is a Standard Pickup Truck?
Of the top 10 most popular pickup trucks, these trucks range from 209.1 to 252.2 inches long. This means 17′ 5.1″ – 21′ 0.2″.
209.1 – 252.2 in

17 ft 5.1 in – 21 ft 0.2 in
The full-size trucks cover the entire range, but the mid-size trucks range from only 210.7-224.9 inches.
The shortest truck found was the Ford F150 (2021) with a regular cab and a 6.5 ft truck bed.
The longest truck was the Toyota Tundra (2022) double cab with an 8.1 ft truck bed.
Full Size:
Mid Size
How Wide is a Standard Pickup Truck?
Of the top 10 most popular pickup trucks, these trucks range from 73 to 82.1 inches long. This equates to 6'1″ – 6′ 10.1″.
73 – 82.1 in

6 ft 1 in – 6 ft 10.1 in
The narrowest truck is the Ford Ranger and the widest is the Chevy Silverado 1500.
Full Size:
Mid Size
These do not include mirrors and surprisingly most of the manufacturers don't report this number. Ford does a great job identifying both folded and non folded mirrors, but most other manufacturers don't even mention it.
Another important thing to take into account is that all of these trucks have fleetside bed styles, so the back wheels do not stick out. For trucks that do have this setup, you may notice that the width at the wheels may be larger than the cab width.
How high is a standard pickup truck?
Of the top 10 most popular pickup trucks, these trucks range from 70.4 to 79.8 inches long. This means 6'0.4″ – 6′ 9.8″.
70.4-79.8 inches

6 ft 0.4 in – 6 ft 9.8 in
The shortest truck is the Chevy Colorado and the tallest is the Ford F150 Raptor.
For some reason, the Raptor tops all other trucks by over an inch.
Full Size:
Mid Size
Interestingly enough, many of the trucks listed above had higher 4×4 versions of the truck than 4×2. The suspension system in an all-wheel-drive car is different than the 4×2 system which could account for the difference.
It is important to note that these dimensions are based on stock models of trucks. Over time these heights can decrease as suspension wears out within the truck.
If you have put in a lift kit or leveling kit, you should consider the changes in height. Any wheel/tire change, suspension change, or lift the height of your truck may either increase or decrease.
Why truck dimensions are important
You should always know the dimensions of your truck or car. This will help you to determine whether or not you can fit in a given area.
This could be in a parking spot or a garage.
Most single car garages are 8-9 ft wide, 7-8 feet high and 22 feet deep (Home Depot & Danley's).
This means that most of these trucks will have no issue fitting into the frame of a garage door, but in some instances may not fit entirely in the garage. The 22 ft depth will make a tight squeeze for the trucks on the higher end of the spectrum.
Another area in which height is important is in low clearance situations, such as drive thru's and parking garages.
Just for reference, I looked up the height of a parking garage in Boston and it was 6'10" (Seaport Boston). So even the highest truck in this list should just barely fit in this garage, but anybody with this height should proceed with extreme caution to reduce the risk of damaging your truck.
I frequently see many pickup truck drivers taking up multiple spaces in a parking lot and I myself have been one to judge.
But according to one town in Idaho, their parking spots are 9ft wide and 19′ in length (Sandpointidaho.gov). This gives trucks about 3 ft in total split between either side, but some trucks can simply not fit within this type of space.
Conclusion
Most common pickup trucks measure between 17′ 5.1′-21′ 0.2″ long, 6′ 1″ – 6′ 10.1″ wide and 6′ 0.4″ – 6′ 9.8″ high.
Bed size, trim, suspension, drive, cabin size, wheels, and bed style all impact the dimensions of your trucks.
The values provided above are only recorded for the stock truck models. If you have made any cosmetic or suspension changes within your vehicle, these numbers may vary. This includes lift kits, leveling kits, and wheels. To ensure your truck can fit everywhere you take it, make sure you measure your truck manually so there is no guesswork.
When in doubt measure it out!