The Honda Ridgeline has bolt pattern of 5×120 mm since 2006. But what does this mean for you? Read on to understand what is bolt pattern, how exactly you can find yours and what it means?
Though I tried to make this information as accurate as possible, you should always double check your bolt pattern by measuring it. There is no guarantee with the information in this article.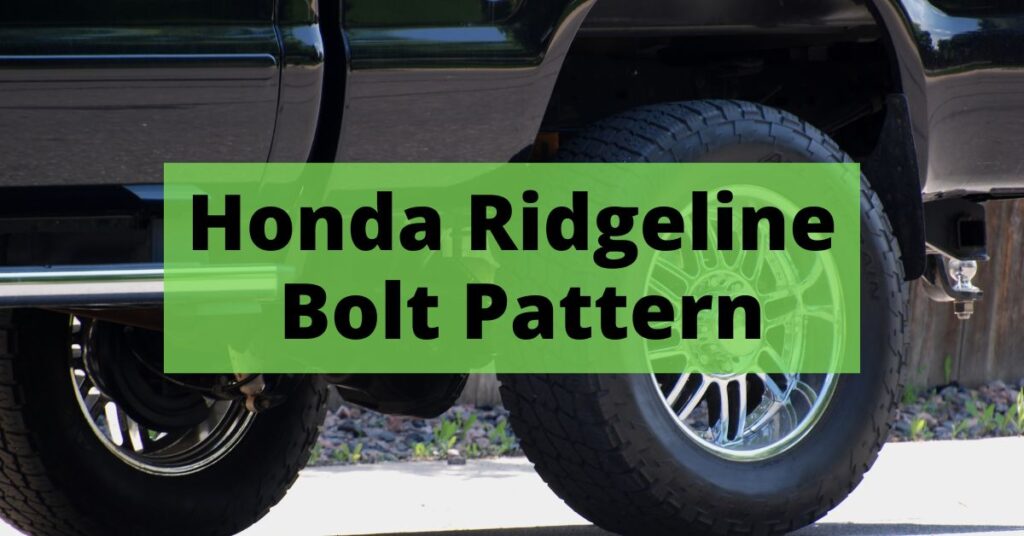 Bolt Pattern for Honda Ridgeline By Year
| | |
| --- | --- |
| Year | Bolt Pattern |
| 2022 | 5×120 mm |
| 2021 | 5×120 mm |
| 2020 | 5×120 mm |
| 2019 | 5×120 mm |
| 2018 | 5×120 mm |
| 2017 | 5×120 mm |
| 2014 | 5×120 mm |
| 2013 | 5×120 mm |
| 2012 | 5×120 mm |
| 2011 | 5×120 mm |
| 2010 | 5×120 mm |
| 2009 | 5×120 mm |
| 2008 | 5×120 mm |
| 2007 | 5×120 mm |
| 2006 | 5×120 mm |
Honda Ridgeline Bolt Pattern Chart by Year
You may notice that the years 2015 and 2016 are missing. This is because there was a brief hiatus for the Ridgeline during those years.
Shop WHeels for Honda Ridgeline
5×120 mm
Discount tire has both a wide selection of tires and rims available for this particular bolt pattern. Check out the Best sellers from Discount Tire.
Amazon does have some limited rim options available that you can check out as well.
What is a Bolt Pattern?
A bolt pattern refers to the orientation and alignment of the bolts for a wheel. It refers to the number and the spacing of the required bolts for the rim to attach to the vehicle. This is also known as a lug pattern.
Bolt patterns cannot be changed without an adapter. The bolt pattern that comes with a car is standard to that vehicle.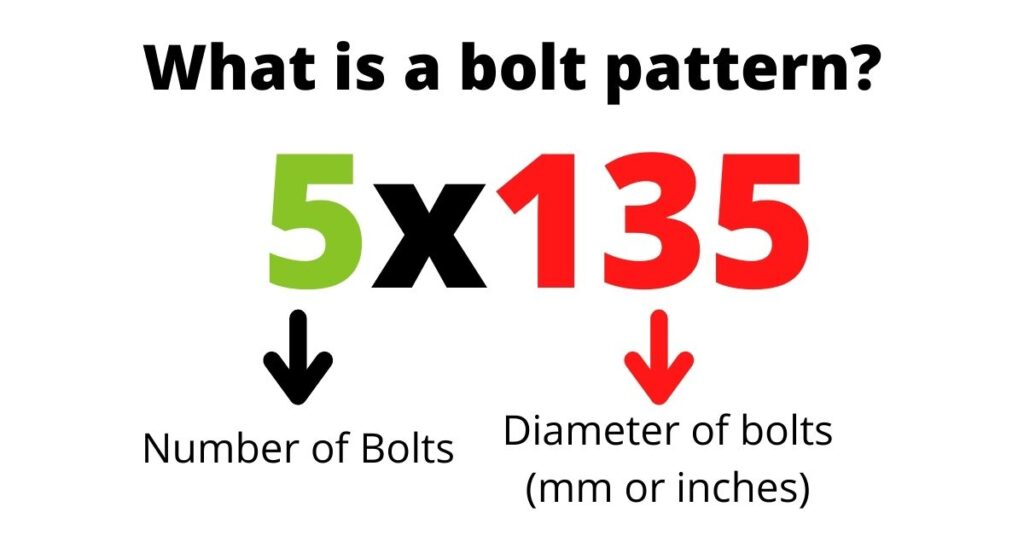 The first number in a bolt pattern refers to the number of bolts. This value is usually 4, 5, 6, or 8.
The second number in a bolt pattern refers to the diameter of the lug circle. See the next section for examples on how to measure the diameter.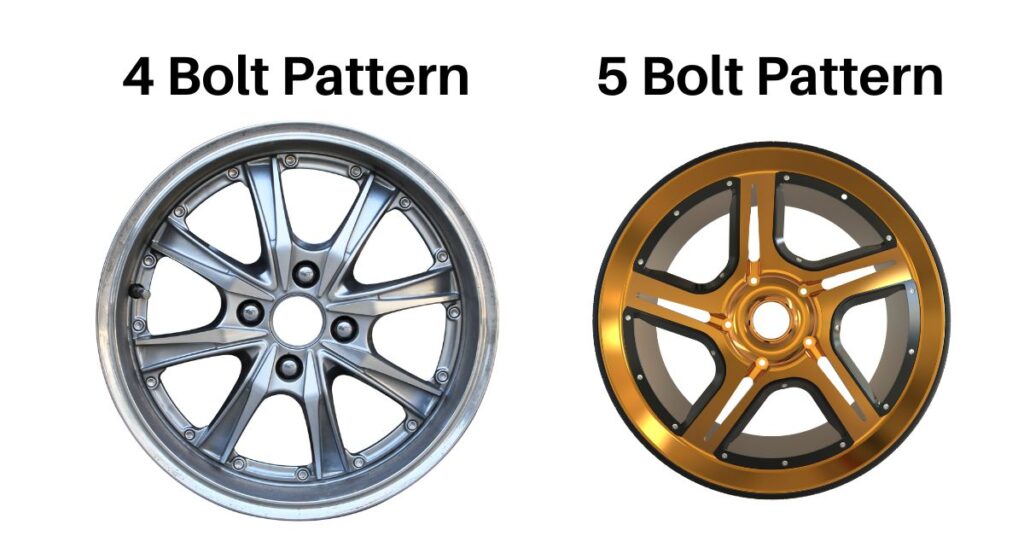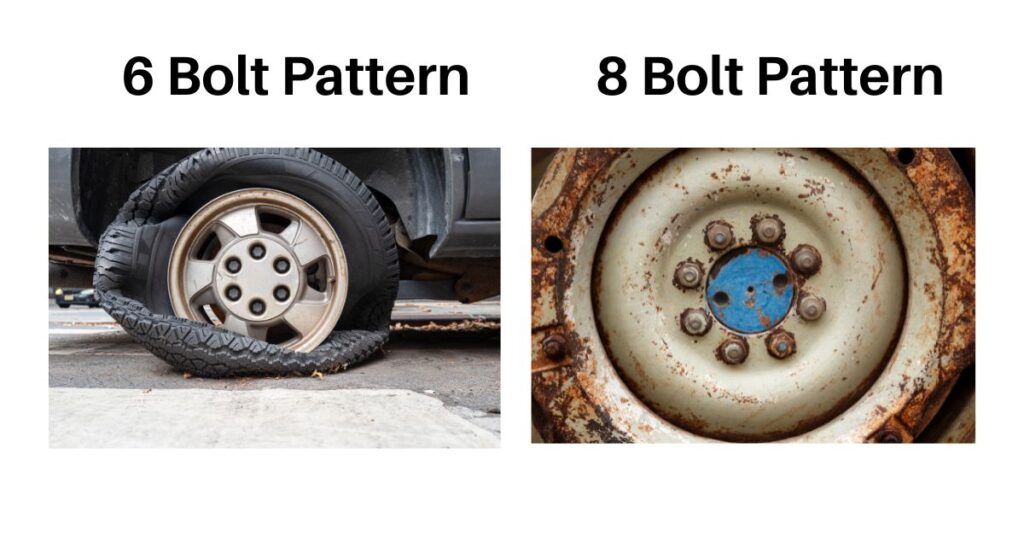 How to Measure Bolt Pattern?
Bolt pattern is measured by first counting the number of lugs on the wheel then measuring the diameter.
This diameter can be measured and presented in either inches or mm.
The diameter is measured by an imaginary circle that goes through the center of all the bolts. An example for a 4 bolt and 5 bolt pattern is shown below.
The diameter can be measured from the center point of one bolt to the center point of one across it. But an odd bolt pattern diameter is measured with an imaginary circle through the center of all the bolts.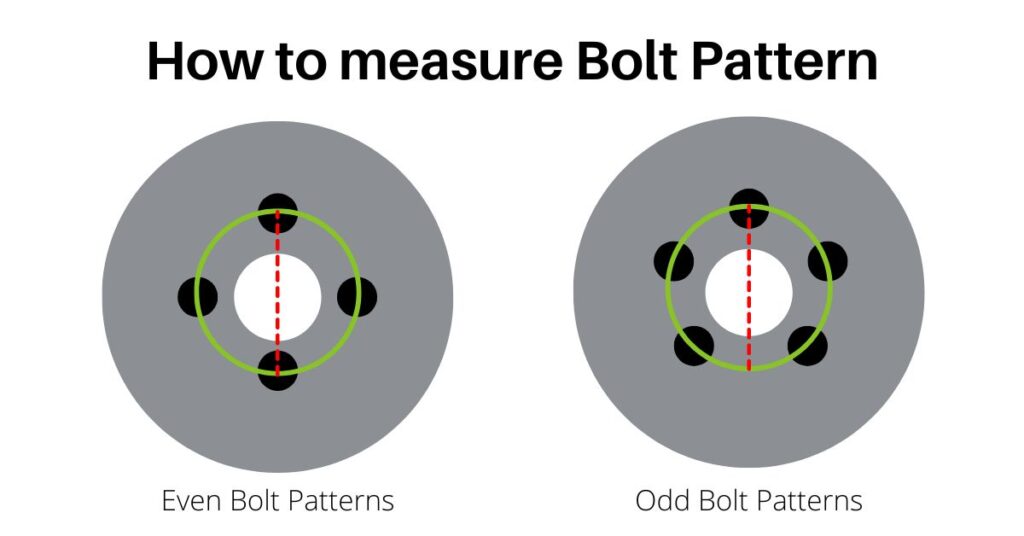 Why is the Bolt Pattern Important?
You need to know the bolt pattern of your vehicle or truck in order to select the appropriate rims for your car. The bolts are what attach the rim and therefore the wheel/tire to your car. To install a rim to the car, the bolts must align with those of the vehicle.
If you have a rim that doesn't match the exact bolt pattern of your vehicle, you may be able to use an adapter that can convert one bolt pattern to another.
These adapters, however, do also act as spacers. This means that your wheels will stick out more out of the side of your truck making your wheel track wider.
This is usually only done for cosmetic reasons. If using an adapter, you should not plan to use the car for towing or hauling. They tend to decrease the capabilities of the truck and usually cannot stand the high impact and power required to carry these loads.
Below are some common adapters for your Ridgeline if you are looking to use a rim pattern different than the standard.
5×120 to 5×114.3 Adapter for Ridgeline