A window sticker provides lots of information specific to the vehicle, including the MSRP of the original vehicle. It is often used to compare resale prices and to ensure a buyer gets all the information available to them about the vehicle.
But getting them can be challenging. One of the easiest ways to retrieve your Ford window sticker is by the VIN.
The VIN provides information about the vehicle, from the manufacturer, but also has a single identifying serial code that corresponds to other features on the particular car or truck.
There are a few ways to get the window sticker, most of them are paid, but there may be some opportunities to get the sticker free.
If you are looking to get the most information from your VIN without a window sticker, you should visit this VIN lookup tool https://www.ford-trucks.com/forums/vindecoder.php
Free and Paid Window Sticker Options for Ford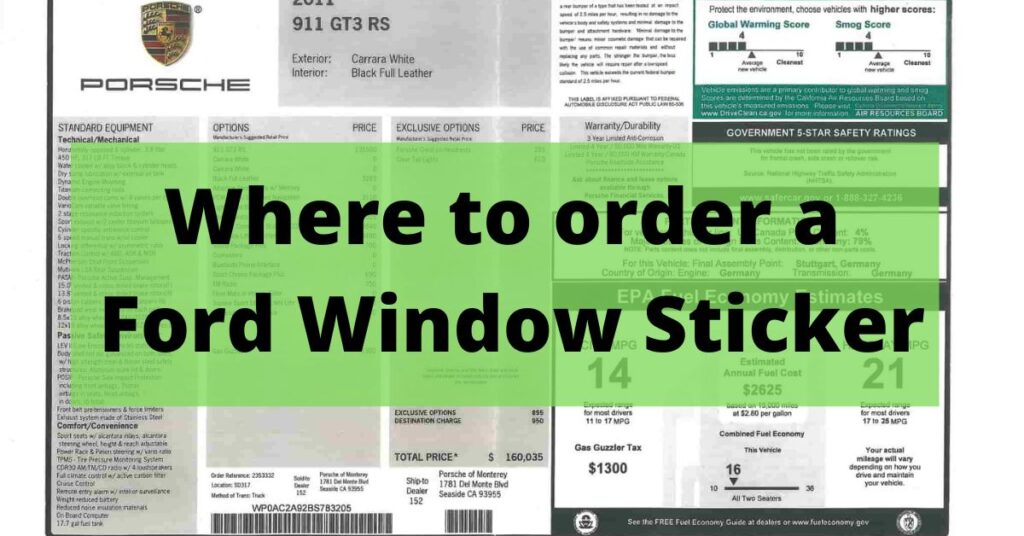 What is a window sticker?
A window sticker, also known as a monroney label, is a data sheet for a specific vehicle. Is has all the information related to that particular vehicle. This is more specific than the make, model, and trim level.
Since new vehicles have so many different options, including special features, packages, and adjustments, the need to know the specifics included for one car increase.
The window sticker is provided by sellers. This is standard from a dealership for new cars. Old cars, however, will likely not have the original sticker because they are often removed. So you may need to find or purchase one as either a seller or buyer.
Why you may need a window sticker
Since a window sticker provides all the specific information around a particular vehicle, it gives you all the necessary information needed to conduct a resell of the car.
As a seller, you may want to get the window sticker so that you can allow customers to get all necessary information about the vehicle before purchasing. This will provide greater rapport as a seller.
However, if you are a buyer and the seller has not provided this information, you may need to collect this document to make sure you are getting a reasonable deal. Without knowing the specifics of the original vehicle, it can be difficult to understand the true value of the car.
What is on a window sticker?
An example of a window sticker for a 2012 Chevrolet Volt is shown below.
The defining information that's on a window sticker is:
fuel economy
MSRP
interior details
exterior details
safety rating
fuel efficiency
engine specs
What makes a window sticker valuable is that it shows the MSRP for the vehicle. This includes the base price as well as the added features with the associated cost.
The safety rating is also something that is only offered on the window sticker. Then there are standard specs for the engine, interior, and exterior.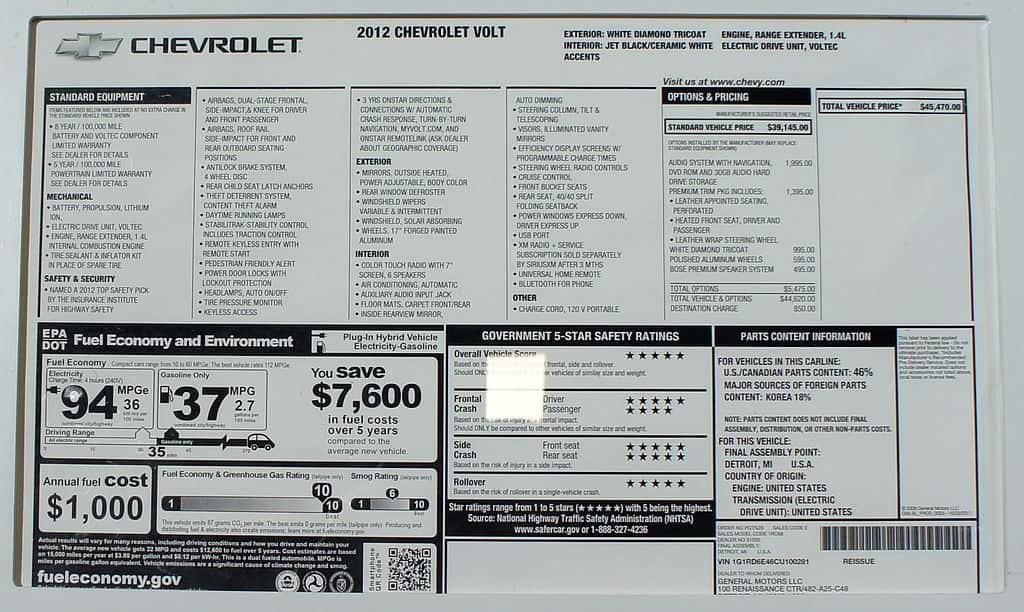 Window Sticker vs VIN Decoder information
Some of the information that can be pulled is the same as what can be taken from the VIN, but they are in fact different.
The distinct characteristics of what the window sticker includes is the MSRP. The VIN decoder from any online source cannot identify this information with 100% accuracy.
VIN (or vehicle identification number) provides information about the type of truck and location of manufacturing. This varies slightly be the different brands, but all are followed by a serial number which is what includes the specific information about the vehicle.
Only the manufacturer knows the information specifically coming from that serial number. This is why it is harder to get the window sticker. The window sticker is essentially identified for every car available, so it is specialized. So unfortunately, there aren't many window stickers publicly available for free.
Where is my VIN Located?
Though there is lots of information that can be taken from the VIN by itself, you will also need the VIN to find your window sticker.
The VIN is located somewhere on the car. The most common places are on the dashboard towards the bottom of the windshield, or on the drivers' side door sticker.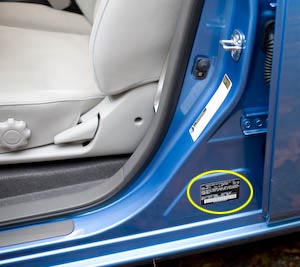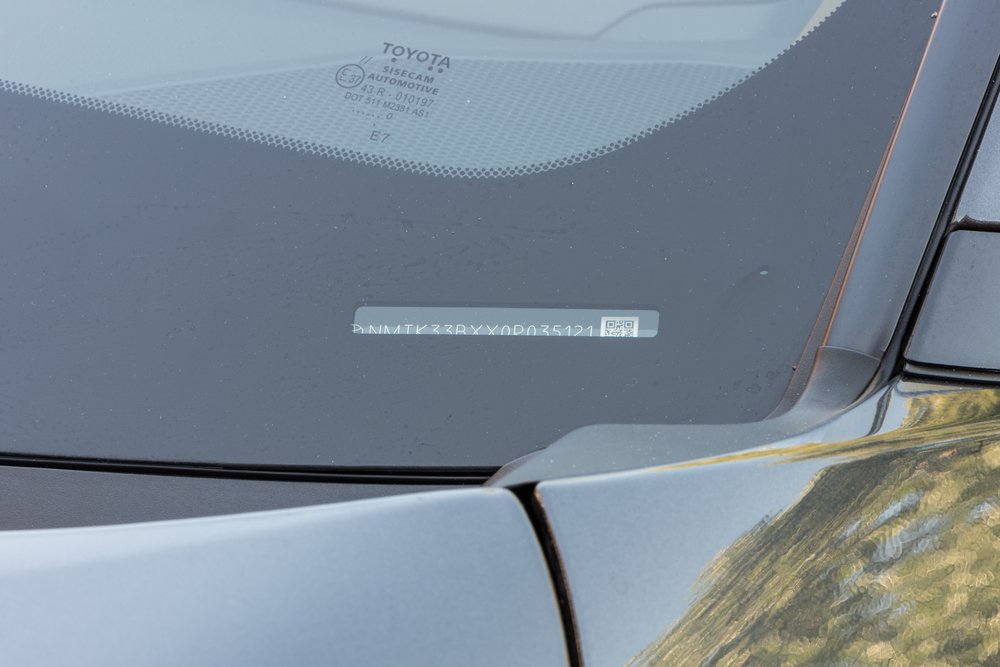 If you can't seem to find this information somewhere on your car, there are other places where it can be found. These are:
Title
Registration
Insurance documents
Once you have your VIN, you can go to the next step.
Ford Window Sticker Lookup – Free
1. Ask the Dealership
Another potential avenue is to go straight to the dealership. I've watched a few videos of some people that have gone directly to the dealership and have asked for a copy of the window sticker and they have printed it for them on the spot.
2. Withclutch.com
The first is withclutch.com. This resource is a website that offers a window sticker tool that allows you to look up a VIN, enter your email, and view a free window sticker (if available). Unfortunately, it seems that there are very few that are actually free.
3. Online Account
If you are a current owner of a particular vehicle, you may be able to open an account with the dealer/manufacturer. Some manufacturers may make a window sticker available to you based on the VIN.
4. Ford Direct URL
You may also be able to find the window sticker of your Ford using the link below. Copy and paste the link and add your vin to the end of the url.
https://www.windowsticker.forddirect.com/windowsticker.pdf?vin=
There aren't many VIN's listed through this particular link and strategy, but it is possible that you may get the necessary information.
Ford Window Sticker Lookup – Paid
1. Monroneylabels.com
The number 1 resource to get paid window stickers (monroney stickers) is monroneylabels.com. This seems like the go to resource to get window stickers for all car manufacturers.
This resources covers 43 different car and truck manufacturers.
2. Withclutch.com
Withclutch.com offers paid window stickers for the ones that aren't available for free. They must order these in bulk, so they charge their visitors to view them as well.
3. Direct Manufacturer
Some manufacturers, such as Ford allow you to purchase a window sticker directly. This order, however, is much more expensive as it is designed to be decorative accent with a frame included.
Through Ford Show Parts, you can order an Official Window sticker for vehicles from 2007-2022. This can be used for all Ford and Lincoln vehicles and will be the most accurate and official monroney label you can get.
5. Beaver Dam Autos
Beaver Dam Autos provides a vin lookup for Ford, Lincoln, and Mercury vehicles. It will provide as much information as it can, but there is also the ability to purchase window stickers.
Below is an example of a 2018 F150 vin lookup with the ability to order a factory window sticker.
https://beaverdamautos.com/2018-Ford-F-150-vin-1FTEW1CBXJFC29727.html
You will see that there is basic information on the vehicle.
How much is a window sticker?
A window sticker purchased online is between $5.00 – $9.99 on withclutch.com/beaverdamautos.com and monroneylabels.com respectively.
The Official Ford Window sticker, however is much more expensive at $49.95.
Regular window stickers are relatively cheap. The information they provide is very valuable and worth the cost. They give you true value by including all the necessary information to value to car at to complete the full picture of the vehicle.
Where to do a VIN lookup
If you don't think you need a window sticker, you can just look up the VIN and get lots of information from it.
U.S. Department of Transportation
The National Highway Traffic Safety Administration has a database for looking up the VIN of every street legal vehicle. This should provide the basic information that is included in a VIN by a manufacturer.
https://vpic.nhtsa.dot.gov/decoder/
Vincheck.info
If you are looking for historical information about your vehicle, vincheck.info allows you to look up the history of the VIN. This includes previous accident records, sales records, recall information, and more.
https://vincheck.info/check/vin-check.php
Ford Forum VIN Decoder
The ford-truck.com forum has a vin decoder included in their basic features and provides good information. This seems to provide more detailed information than many other VIN decoders. There is additional information like original MSRP, specs, and features. This is the closest Free resource you can pull information from that is most similar to the window sticker.