The Honda Ridgeline is a great mix of an SUV with all the features and looks of a pickup truck. As a mid-size truck, it is not as powerful as the other full-size trucks, but it has many advantages over those.
Its smaller size makes it easier to maneuver, easier to fit into smaller spaces, has better fuel efficiency, but has all of the benefits of an SUV.
The overall, exterior dimensions of the 2022 Honda Ridgeline are 210.2″ x 78.6″ x 70.8″.
This article will go through the exterior length, width, and height of the Ridgeline, the bed size, weight, and interior dimensions for the 2022 model.
If you are looking for the towing capacity and engine specifications, read: Honda Ridgeline Towing Capacity
Though I tried to make this information as accurate as possible, you should always check your manual or contact your local dealer to determine the appropriate towing capacity of your vehicle and necessary equipment.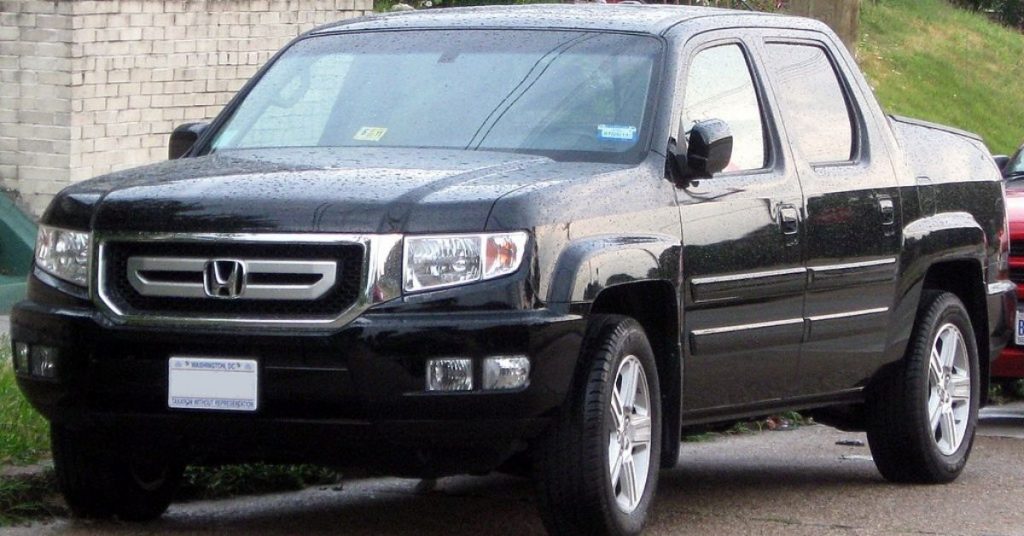 Length, Width, Height of Honda Ridgeline
The Honda Ridgeline is a bit smaller than many other pickup trucks on the market. But it still has lots of features to make up for its small size. It still has 4 full-size doors to accommodate two rows of passengers making it a great option for families and those looking to carry extra passengers often.
The Ridgeline has overall dimensions of 210.2 inches in length, 78.6 inches in width, and 70.8 inches in height.
In feet, the Ridgeline is 17 ft 6.2 inches long, 6 ft 6.6 inches wide, and 5 ft 10.8 inches high.
The Ridgeline also has a wheelbase of 125.2 inches.
Length
Width
Height
Wheelbase
210.2 in
17 ft 6.2 in
78.6 in
6 ft 6.6 in
70.8 in
5 ft 10.8 in
125.2 in
10 ft 5.2 in
2022 Honda Ridgeline Exterior Dimensions
Bed size of Honda Ridgeline
The Honda Ridgeline only comes with one size bed. This bed is 64 inches (5 ft 4 inches) long.
What makes the bed of the Honda Ridgeline special is the dual-action tailgate and in-bed lockable trunk.
The dual-action tailgate is a tailgate that can open the standard way (downwards and flat) but can also swing like a door outwards on a side hinge. You can see a great image from Honda here.
The in-bed trunk is a lockable in-bed compartment that hides underneath the bed of the truck floor. With a total of 7.3 cu. ft, it can be used as a cooler with actual ice because it has a built-in drainage system. The benefit of having this storage is that you can carry smaller items in the truck bed to protect them from weather and criminals without the need for a fancy truck bed cover.
However, if you are looking for a truck bed cover for your Honda Ridgeline, it can be hard to pick the right one for you. That's why I created an article to walk you through all of the types of truck bed covers available for a truck bed and each of their advantages and disadvantages.
Bed Length
Bed Length (with tailgate down)
Bed Width (between wheel wells)
Max Bed Width
Cargo Bed Volume
In-Bed Trunk Volume
64.0 in
5 ft 4 in
83.0 in
6 ft 11 in
50.0 in
4 ft 2 in
60.0 in
5 ft
33.9 cu ft
7.3 cu ft
2022 Honda Ridgeline Bed Dimensions and Specs
The maximum bed length of the Honda Ridgeline is 83.0 inches with the tailgate down.
The width of the Ridgeline bed is 50.0 inches between the wheel wells and 60.0 inches in the rest of the bed.
The bed has a cargo volume of 33.9 cu. ft and a volume of 7.3 cu ft in the in-bed lockable trunk.
Weight of Honda Ridgeline
There are only 4 trims of the Honda Ridgeline and there are no additional offers to your vehicle other than the drive of 4×2 or 4×4.
The Honda Ridgeline weighs between 4,436 and 4,510 lbs (this is also referred to as the curb weight).
| | | | |
| --- | --- | --- | --- |
| Sport | RTL | RTL-E | Black Edition |
| 4,436 lbs | 4,475 lbs | 4,510 lbs | 4,510 lbs |
2022 Honda Ridgeline Curb Weight
Interior Dimensions
With the limited options in the Honda Ridgeline, there is only one cab type which means the interior dimensions of all Ridgelines are the same.
The Ridgeline features two rows of seating with a passenger capacity of 5 persons.
| | | | | |
| --- | --- | --- | --- | --- |
| | Head Room | Leg Room | Hip Room | Shoulder Room |
| Front | 40.1 in | 40.9 in | 59.1 in | 62.0 in |
| Rear | 38.8 in | 36.7 in | 56.6 in | 61.5 in |
Interior Cab Dimensions for Honda Ridgeline 2022
Why are these dimensions important?
Exterior Dimensions
Exterior dimensions provide you with the necessary information to determine the size of your truck can fit in any given parking space or garage.
It also helps you to select appropriate accessories that specifically fit the size of your car.
Bed Size
The bed size is important to understand for multiple reasons.
You can determine the size of cargo that can fit in your truck
You can select the approrpriate bed cover to fit your size
You will be able to appropriately select truck bed racks that can fit your bed
The BAK hard folding truck bed cover is one of the best on the market for the Honda Ridgeline!
Weight
The weight of your Honda Ridgeline is important so that you can appropriately determine the amount of weight that can be carried and towed. These are known as payload and towing capacity respectively.
To discover the towing capacity and payload capacity of the Honda Ridgeline check out this article: Towing Capacity of Honda Ridgeline.
Interior Dimensions
Interior dimensions are great for comparison on the comfort that is provided for your passengers, but it also helps you select the right interior accessories, such as seat covers and car seats.