There are a variety of 2005 F150 Pickup Trucks available, all with different trims, engines, cab sizes, bed sizes, and axle ratios.
All of these factors determine the maximum towing capacity of your F150 and they are all listed in this article below.
The maximum towing capacity in the 2005 Ford F150 is between 5,000 lbs and 9,900 lbs for the automatic transmission engines. The manual engines have a much lower towing capacity of 2,200 – 3,700 lbs. Regardless of whether you have a hitch receiver or are using the bumper, you should not ever exceed a 500 lb tongue weight or a trailer weight of 5,000 lbs without a weight-distributing trailer hitch.
This article will list the trailer weights and gcwr of each of these combinations taken from the owner's manual of the 2005 Ford F150, but you should always do your own calculations to determine the actual amount you can tow.
To walk you through the process, I made: How is Towing Capacity Calculated to help you out!
Keep reading below to determine the trailer towing capacity listed by Ford, keep reading.
Though I tried to make this information as accurate as possible, you should always check your manual or contact your local dealer to determine the appropriate towing capacity of your vehicle and necessary equipment.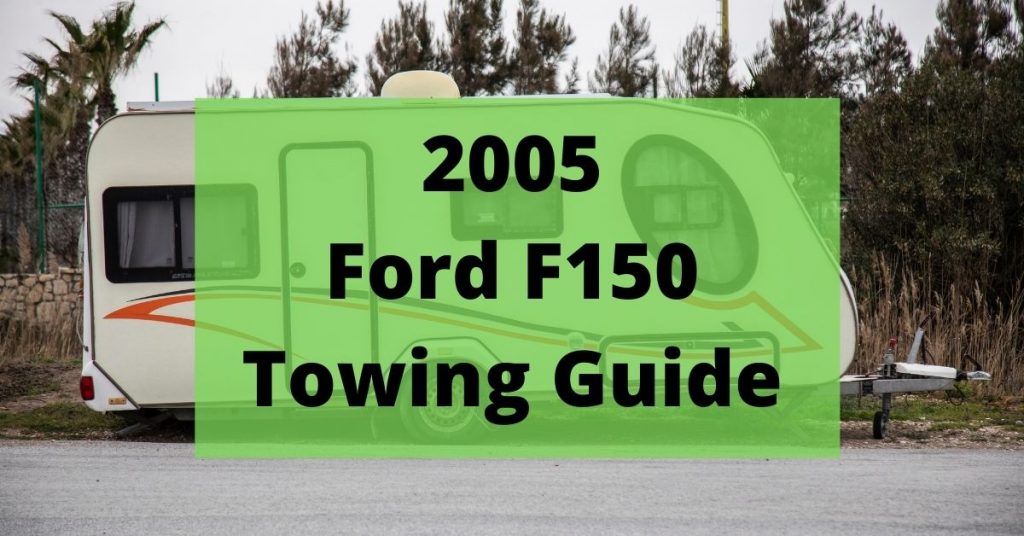 2005 F150 Trims
The 2005 Ford F150 comes in 6 main trims (Source):
XL
XLT
LARIAT
King Ranch
FX4
STX
Each of these cars has similar builds but varies in terms of compatibility for engine, bed, cab, and cosmetic options.
The selection of the trim should not hinder your ability to determine the towing capacity of your truck, however.
The most important factor to determine the towing capacity of your F150 is by using the engine type.
2005 F150 Cab and Bed Sizes
Cab Sizes
The cab types in the 2005 F150 are regular/standard, SuperCab and SuperCrew.
The regular is a single-row seating cab, while the SuperCab and SuperCrew can support two different rows of passengers.
The SuperCab is slightly smaller than the SuperCrew in both length, rear-seat space, and rear door sizes.
Bed Sizes
There are three main bed sizes for the 2005 F150. These include the short, standard, and long bed.
The short bed is 5.5 ft, the standard bed is 6.5 ft, and the long bed I 8 ft.
Not all bed sizes are available with every cab size. Since the regular cab is the smallest, it can accommodate both the 6.5 ft and 8 ft bed sizes.
The SuperCab, as the middle option is available in all three cab sizes.
And the SuperCrew, being the largest is only available in the short (5.5 ft) bed to keep the overall length both legal and smaller.
At this point you may have either a styleside or flareside truck bed, but that doesn't matter for the sake of the towing capacities listed in this article.
Packages available
Since these are older models, it is harder to identify which packages are available with these F150s.
All standard 2005 F150s do come with 4 pin trailer wiring harnesses. They do not come with any type of trailer hitch receiver.
A hitch receiver is only available with the Trailer Tow Group/Trailer Tow Package (code 535). This package also comes with:
7-wire harness & 4/7 pin connector
hitch receiver
radiator upgrade
72 amp hr heavy duty battery
aux auto trans oil cooler
The only other package mentioned in the brochure is the Heavy-Duty Payload Package (code 627).
This package increases the vehicle GVWR to 8,200 lbs and comes with:
upgraded springs
super engine cooling
72 amp-hr batter
9-channel oil-to-water auxiliary tranmission oil cooler
only avialbe in 5.4L engine
Though 5th wheel towing is compatible with the F150, there is no package that offers a factory hitch so it must be installed separately.
Towing Capacity by Engine
To determine the towing capacity of your vehicle, you need to know the:
engine type
bed size
cab size
drivetrain
axle ratio
If you know all of these items, then move on to the next section by engine to determine your towing capacity.
If not:
Start with the VIN decoder from Autozone to determine the enigine in the vehicle
measure the bed size with a tape measure to determine whether you have a 5.5, 6.5 or 8 ft bed
The cab size should be evident by whether or not you have two rows and if the back doors are full sized
Drivetrain should be determined with the VIN as well
The axle ratio will be listed on the side of the drivers door on the certification sticker
The image below will should you where you can find the axle ratio on this sticker in your car.
You can also see your GVWR for your vehicle here to determine your payload capacity.
Related: What is GVWR?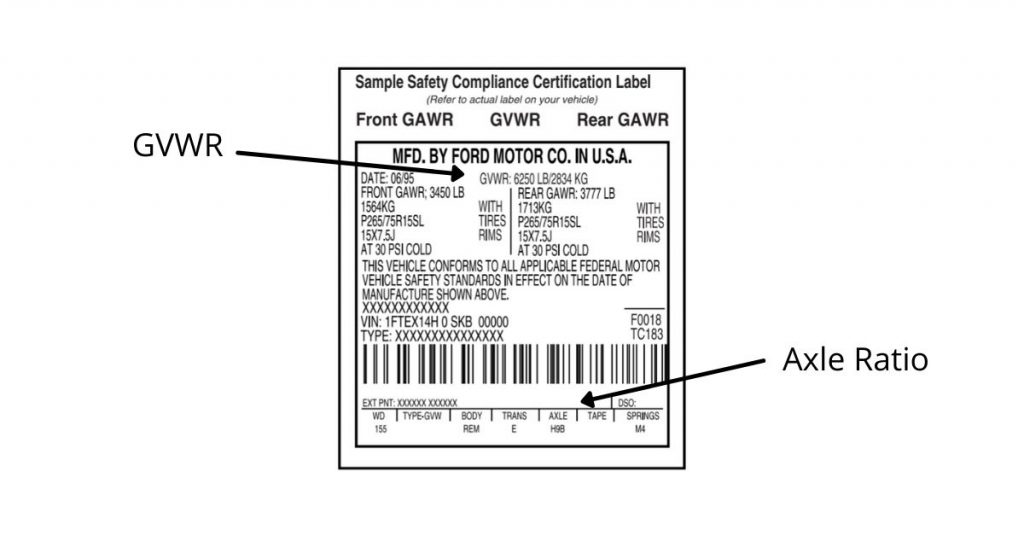 4.2 L V6
This engine is a 4.2 L V6 engine which comes in both automatic and manual transmissions.
The 4.2 L in the 2005 Ford F150 engine has a max towing capacity between 5,600 lbs and 2,200 lbs.
It has 202 hp @ 4,350 rpm and 260 lb.-ft @ 3,750 rpm.
This engine is only offered in the Regular Cab style.
2005 F150 Towing Capacity 4.2 L V6 Engine Chart
4.6 L Triton V8
The V8 engines used by Ford during this time period were under the name Triton. This 4.6 L V8 engine is stronger than the V6 and has a maximum towing capacity between 7,100 lbs and 6,000 lbs.
It is available with all cab sizes and bed sizes, so you must make sure you check which F150 you have before determining the max capacity of your truck.
It's specs are higher with a 231 hp @ 4,750 rpm and 293 lb.-ft @ 3,500rpm. It is only available with an automatic transmission.
2005 F150 Towing Capacity 4.6 L V8 Engine Chart
5.4 L Triton V8
The Triton V8 engine in the 2005 F150 series is the most powerful engine.
As the strongest and most powerful engine, the 5.4 L V 8 has a maximum towing capacity between 9,900 lbs and 6,800 lbs.
It also has 300 hp @ 5,000 rpm nad 365 lb.-ft @ 3,750 rpm.
It is also available in every cab and bed size but is only available with an automatic transmission.
2005 F150 Towing Capacity 5.4 L V8 Engine Chart
Conventional Towing Chart
The following chart was taken from the 2005 Trailer Towing Guide listed at fleet.ford.com.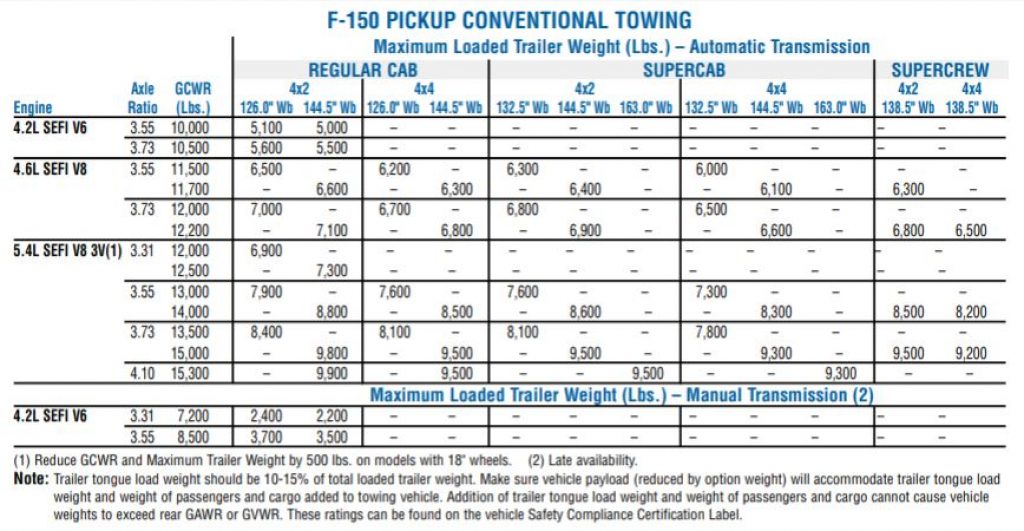 2005 F150 5th Wheel Towing Capacity
The 2005 F150 does allow 5th wheel and gooseneck towing, but required proper installation of this type of trailer hitch. There is no F150 of this year that comes with a factory hitch.
One of the most popular 5th wheel hitches is the Andersen Aluminum Hitch. Check it out on Amazon!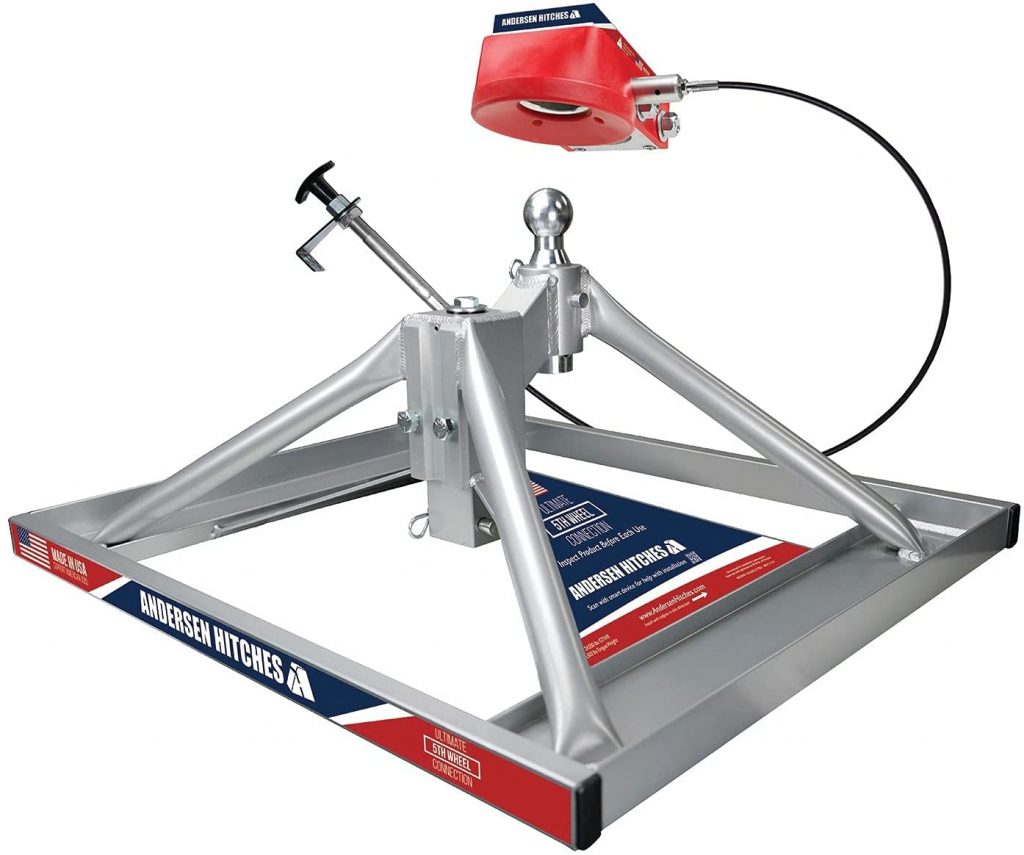 Andersen Hitches Ultimate 5th Wheel Connection
Amazon Affiliate Link
One-Person installation 5th wheel towing hitch for Ford F150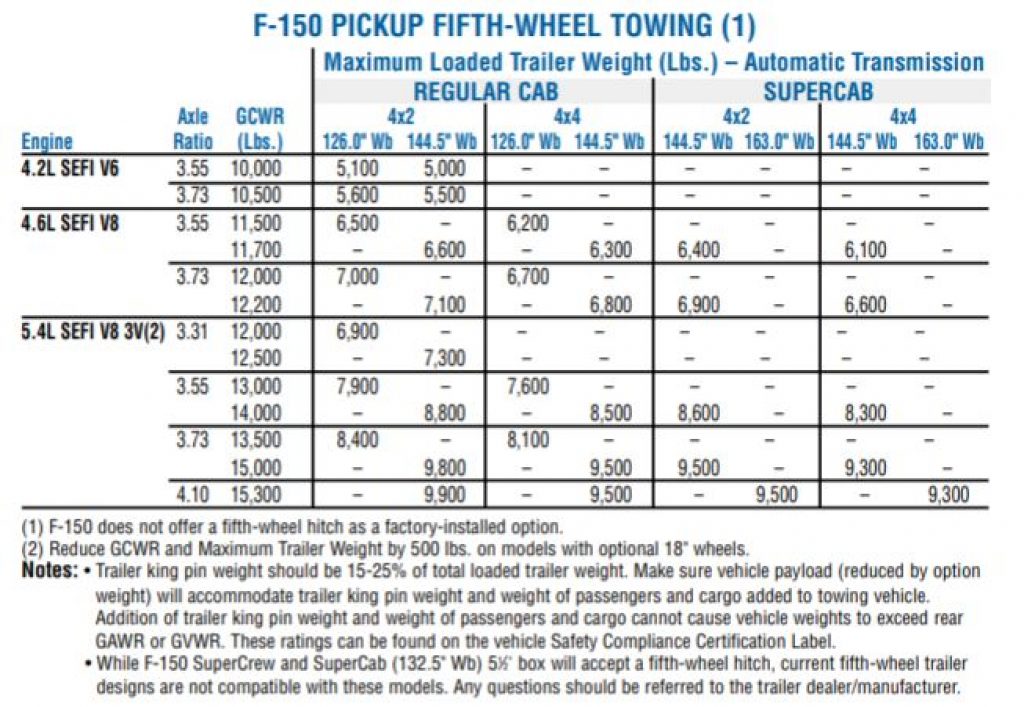 Rear Step Bumper Towing vs Hitch Receiver Towing
Towing always requires some type of hitch, but the Ford F150 can allow for bumper towing.
This means that a ball hitch can be installed on the bumper of the vehicle and doesn't necessarily require a fully installed hitch receiver. In either case, for conventional towing without a weight-distributing trailer hitch, the towing capacity cannot exceed 5,000 lbs and the tongue weight on the ball cannot exceed 500 lbs.
This equates to a 10% tongue weight for all trailers.
This means that all of the listed towing capacities above for everything over 5,000 lbs require a weight-distributing trailer hitch is required with a properly installed hitch receiver.
Weight Carrying Trailer Capacity
(Max Tongue Load)
Weight-Distributing Trailer Capacity
(Max Tongue Load)
Rear Step Bumper
5,000 lbs
(500 lbs)
–
Hitch Receiver
5,000 lbs
(500 lbs)
9,900 lbs
(990 lbs)
Max Tongue Load and Trailer Capacity for Rear Step Bumper and Hitch Receivers on 2005 F150
Additional Resources
Conclusion
You should always calculate your own towing capacity even though this guide shows some of the towing capacities of your vehicle.
These maximum trailer weights come from the GCWR and the curb weight plus an additional 150 lbs passenger.
I walk through how to calculate exactly the towing capacity of your vehicle at any given point in the article How is Towing Capacity Calculated and there's also a calculator there to make it really easy for you.
The manual is one of the best places to start to make sure you get the most accurate information for the GCWR.